Munnar is a beautiful, picturesque hill station in God's Own Country, Kerala. The hill station is nestled in the undulating hills of the Annamalai mountain range in the Western Ghats. Munnar offers tourists an astounding array of interesting tourist attractions to visit and explore. In addition, it is dazzling and filled with natural wonders like mountain ranges, waterfalls, bungalows, tea estates, and wildlife sanctuaries. This blog is about the best tourist places in Munnar to visit in 2021.
Munnar is also at the confluence of three rivers -Madurapuzha, Nallathanni and Kundala at 1600 metres above sea level. This unique geography with sun-kissed mountains, abundant water, and a temperate climate is ideal for tea to grow. Tata's Kannan Devan Estate is a 6000-hectare legacy property is located in Munnar. This incidentally, is one of the largest tea estates in the country.
Honeymooners love Munnar for its picturesque locales, lush green forests, and holiday spots. Neelakurunji a rare flower variety is unique to the Nilgiri Mountains blooms here once in 12 years. These flowers turn the entire hills into a verdant purple-blue landscape offering a stunning view of the mountains.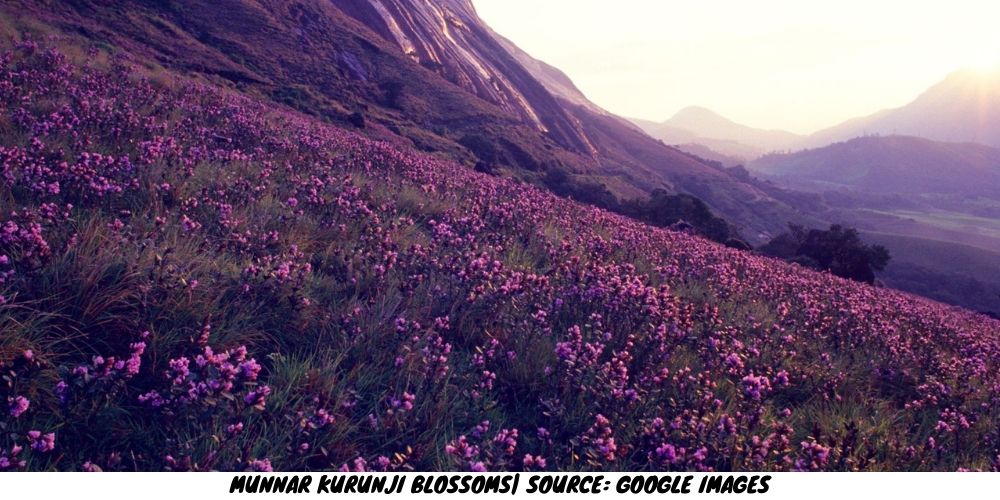 Explore the tourist places to visit in Munnar with Deepam Cabs.
A road trip from Bangalore to Munnar is a 460 km journey while planning to travel via Kollegal and Tiruppur. This journey can be made affordable and safe when opting to travel by U-Taxi a car rental company from Bangalore.
It has been helping people to enjoy wonderful holidays with family and friends. U-Taxi's outstation taxi service offers low-cost car rental services to any destination in South India. It provides the best outstation taxi service in Bangalore. U-Taxi is on a mission to keep its customers happy by offering low-cost taxi rentals. This affordable outstation taxi service in Bangalore is sure to keep everyone happy with pocket-friendly taxi rates. Munnar is a maze for the first-time traveller, the map below is a good guide to plan a fantastic holiday from Bangalore.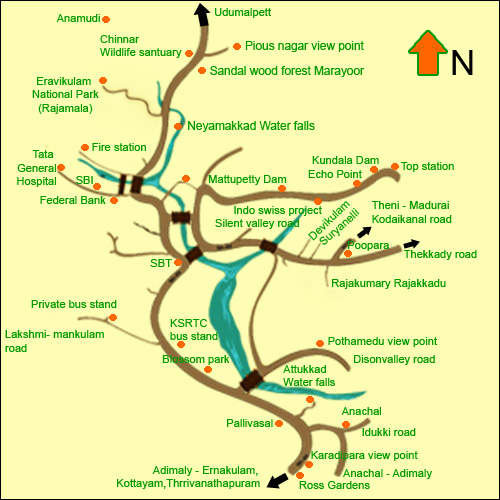 Top 12 Best tourist places to visit in Munnar
We have handpicked twelve famous sightseeing places in Munnar to check out. This list of twelve is to symbolize the Neelakurunji flower that blooms once every 12 years.
1. Munnar Echo Point
Munnar's Echo Point is about 15 km from Munnar. This picturesque locale offers travellers the unique opportunity to listen to their echo because of the unique surroundings. The three rivers of Munnar meet at Echo point to form a lake ideal for boating.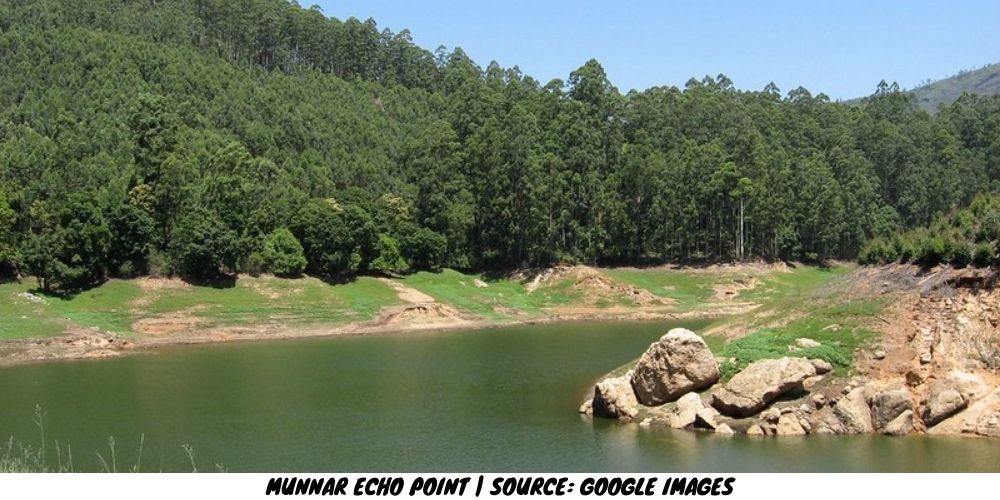 Echo point is a great place for taking long walks beside the lake. The misty hills filled with green trees are a calm and serene place ideal for bird watchers. Adventure addicts and adrenaline freaks can explore the woods by following the many trekking routes around Echo point. It is advisable to research these routes before venturing into the hills. Echo Point is the first tourist spot to visit when on a Munnar holiday.
Opening Hours: 7:00 am to 6:00 pm (on all days).
Entry Fee: ₹ 30 for adults, ₹ 15 for children.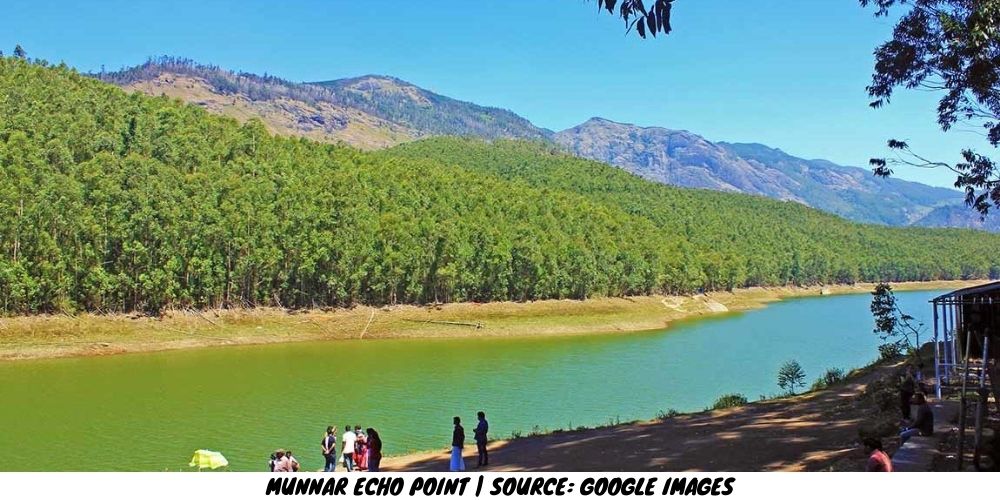 2. Munnar Tata Kannan Devan Tea Museum
The Kannan Devan Tea museum showcases the history of tea produced in the region and one of the top sightseeing places in Munnar. Tea cultivation in Munnar was started by the British by established the Kannan Devan Tea plantations in 1876. Tourists can view rare artefacts and evocative photographs of an era long forgotten at the museum.
A 30-minute documentary played for visitors takes a historical sojourn of the tea estate. Besides, a small tea factory operated here expertly depicts the nuance of tea cultivation, processing, and tea tasting.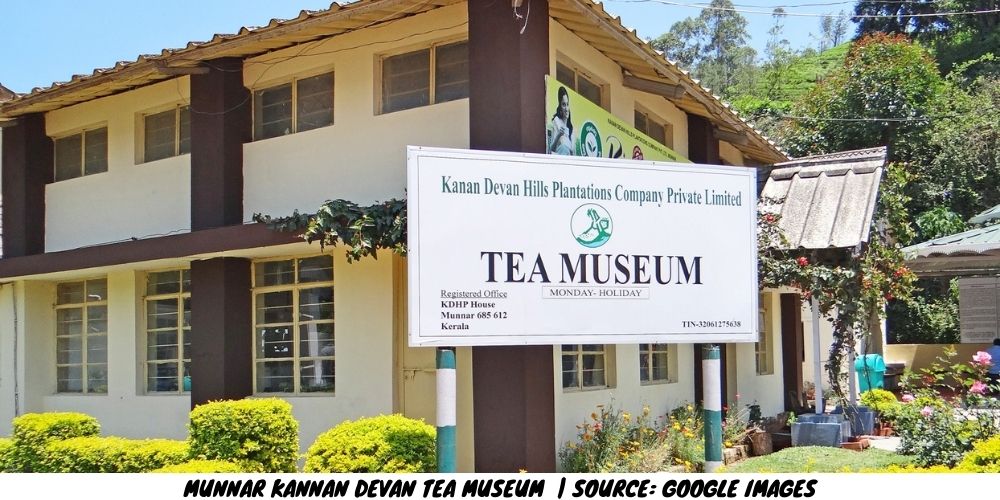 A tea outlet called Chai Bazaar at the museum's premises sells different varieties of black teas, green teas, speciality teas, and iced tea. In addition, the Tea Museum has had more than 2.5 million visitors since its inception.
Opening Hours: 9:00 am to 4:00 pm (open all days except on Monday).
Entry Fee: ₹ 75 for adults, ₹ 35 for children.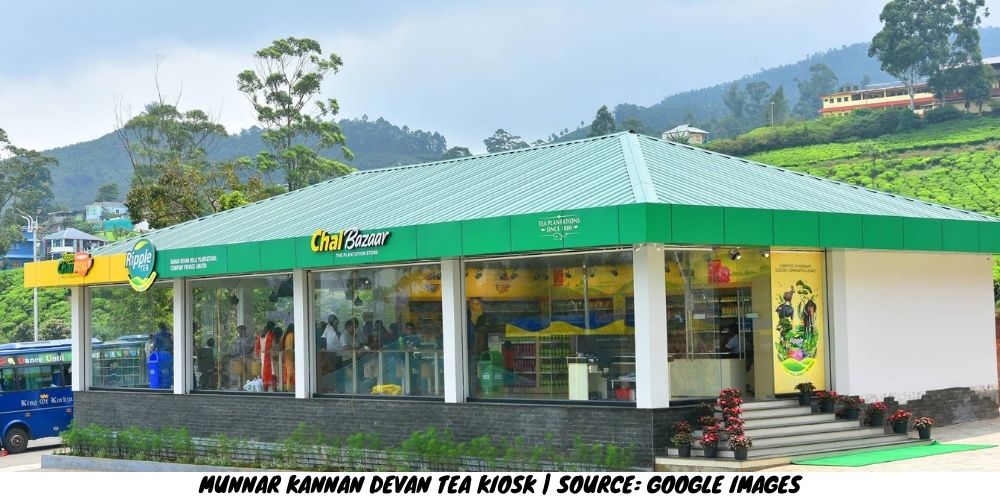 3. Munnar Eravikulam National Park
Eravikulam National Park is a 45-minute drive from Munnar. Spread over 97 sq km it is the best place to visit in Munnar. The wildlife reserve is home to a vibrant blend of over 132 species of birds, 19 amphibian species, 26 mammalian species, 101 species of butterflies, and 20 orchid varieties. The terrain is predominately grasslands and shrubs. However, many deep valleys are covered extensively with Shola trees, inaccessible for tourists.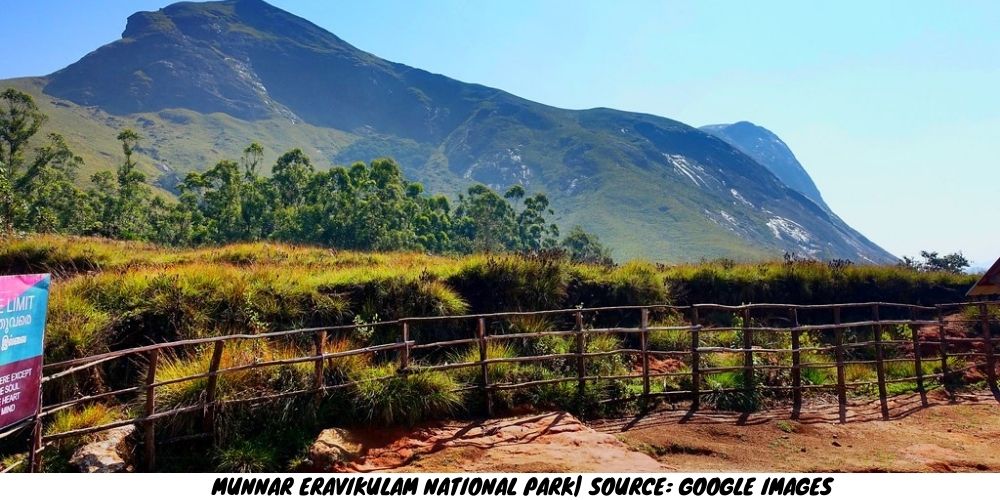 Some animals spotted are Nilgiri langur, Atlas moth, Nilgiri marten, lion-tailed macaque, and mountain leopards. The Nilgiri Tahr an endangered wild goat thrives amongst the rich grasslands in Eravikulam. The reserve offers stunning viewpoints, safari rides, eco shops, and food joints perfect for a family day out. Of all the tourist attractions in Munnar, a visit to the Eravikulam National Park is never to be missed. 
Opening Hours: 7:00 am to 4:00 pm (open all days).
Entry Fee: ₹ 125 for adults, ₹ 65 for children.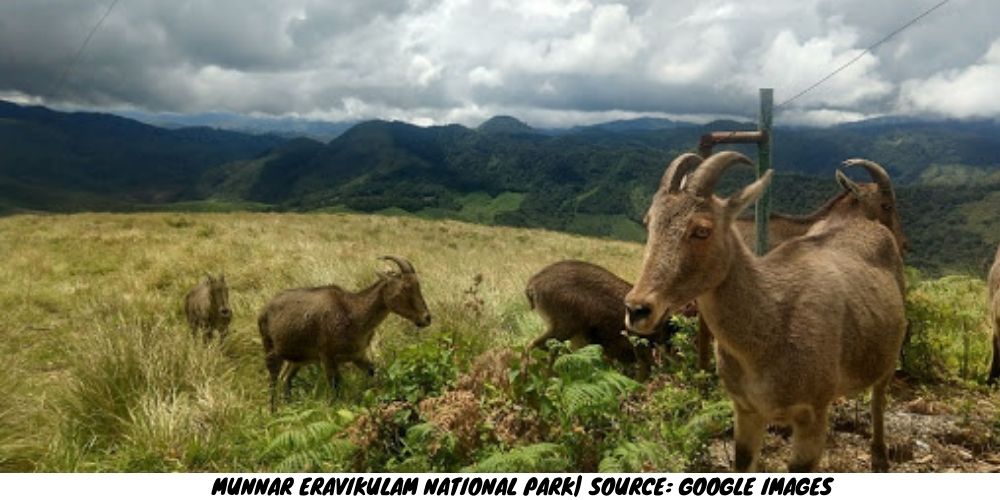 4. Munnar Wonder Valley Amusement Park
Wonder Valley Adventure and Amusement Park in Munnar is an eco-park located amidst nature. This park offers visitors a unique blend of adventure sports and amusement activities under one roof. Adventure lovers can fancy a breathtaking thrilling adventure. Indulging in physical challenges like rappelling, commando net, and rock climbing is highly recommended. 
Tourists can also enjoy a wonderful tour of Kodaikanal. Please check the blog about the beautiful Kodaikanal hill station.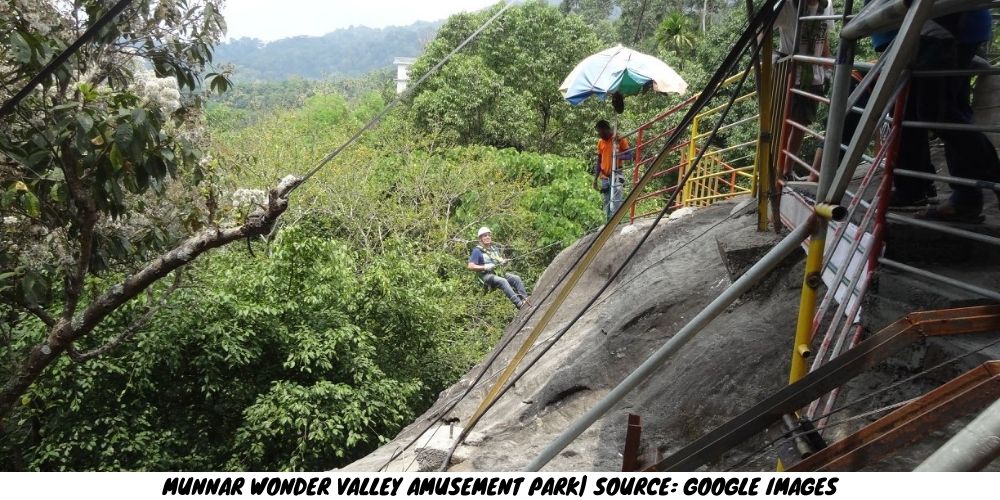 In addition, the amusement zone offers activities dashing cars, bull rider, rain dancing, and a wave pool. The amusement park is one of the most interesting places to visit in Munnar for its many adventure-based activities. 
Opening Hours: 8:30 am to 6:30 pm (open all days).
Entry Fee: ₹ 1000 per person.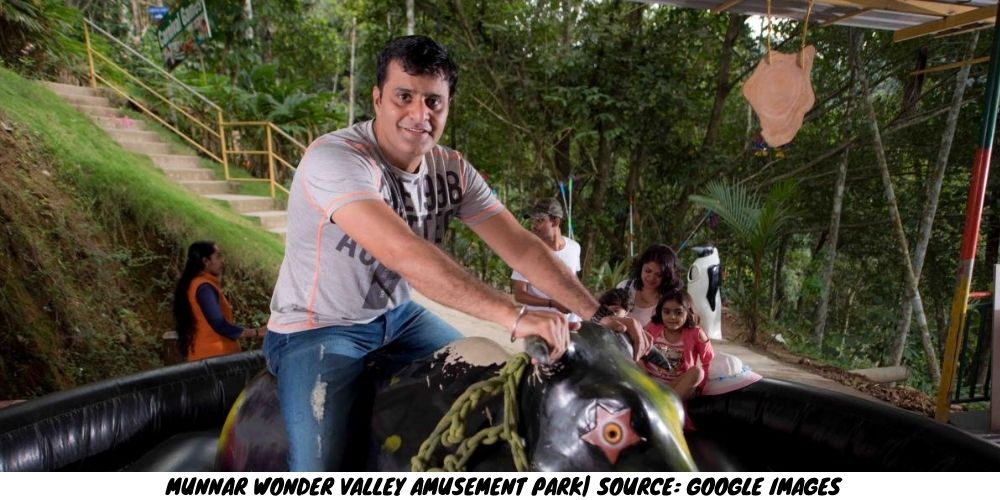 5. Munnar Marayoor Sandalwood Reserves
Marayoor is a small town located around 40 km from Munnar. It is home to over 65,000 trees protected by the forest department for the sandalwood trees that grow among them. Marayoor forests are a protected area and fenced with each tree here numbered.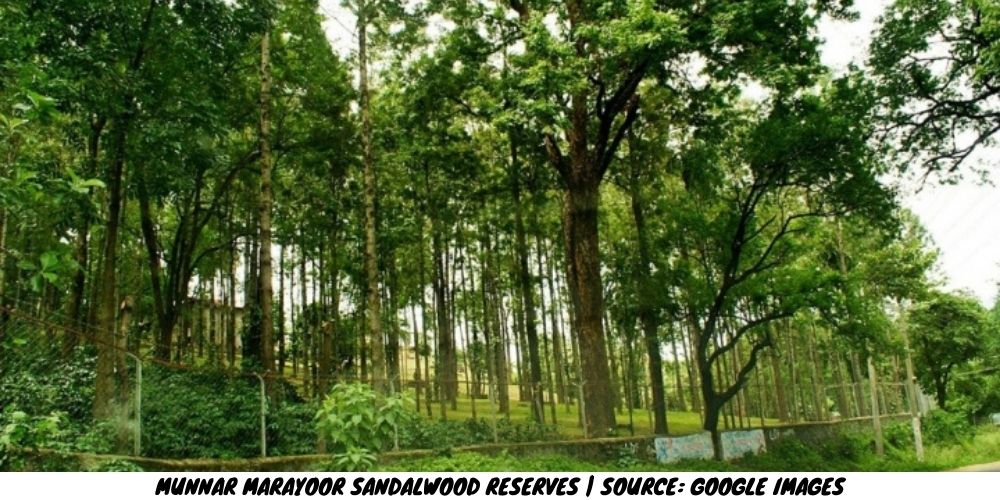 Tampering with the trees here is an offence and might land offenders in jail. However, visitors can visit the Sandalwood factory here to purchase sandalwood products. Besides, Marayoor has a vast sugarcane farm known to produce the best variety of jaggery. Tourists can spot deer, bison, and elephant in the evening if lucky. The reserves are one of the must-visit places in Munnar for the unique sandalwood reserves.
Opening Hours: 6:00 am to 6:00 pm (open all days).
Entry Fee: Free.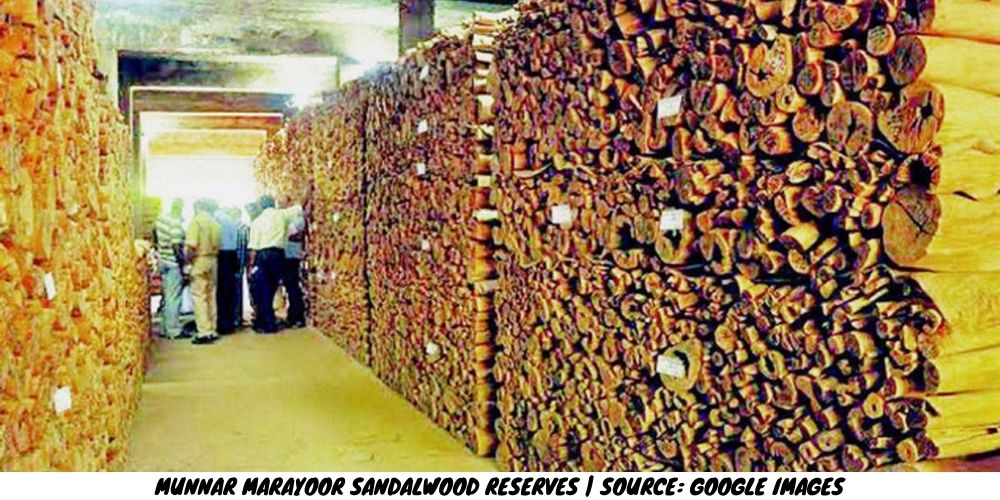 6. Munnar Elephant Arrival Point
A visit to the Elephant Arrival spot around 18 km from Munnar is a must-see for any traveller. These meadows measuring 100 sq km have densely populated trees. They are visited by wild elephants regularly from the Nilgiri Hills.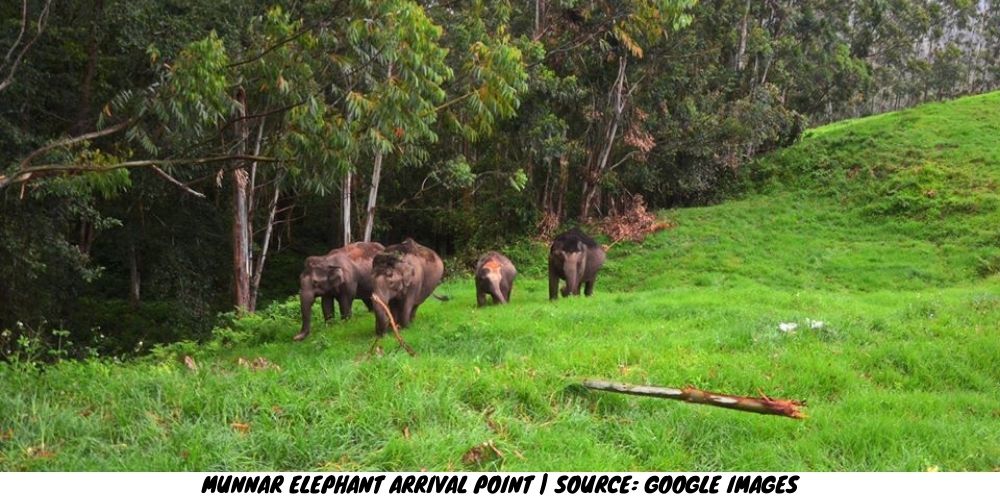 The distinct marks of Elephant trails and their scattered dung point to the place where these pachyderms arrive at different times in the day. It is a fascinating place to visit in Munnar for all wildlife enthusiasts.
Opening Hours: 5:00 am to 5:00 pm (open all days).
Entry Fee: Free, but the mahout's charge a token amount.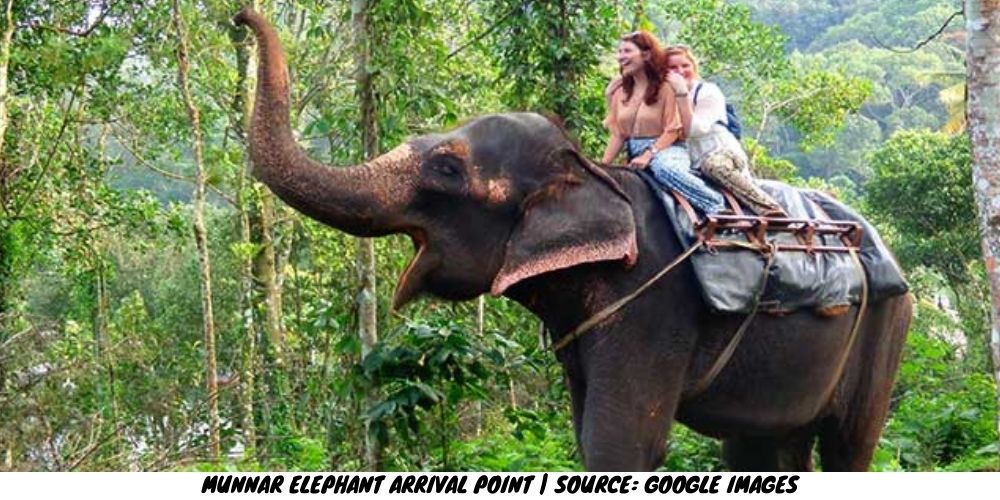 7. Munnar Lockhart Gap
Lock Hart Gap is one of the best sightseeing places in Munnar. Photo enthusiasts love the evenings here when the surrounding hills get illuminated in blazing orange. Besides, the sight of the sun setting makes it beautiful. A blanket of mist-filled clouds over the valley provides a stunning view of lush green valleys, rolling hills, grasslands. It is also an ideal spot for adventure, with many trekking trails to explore the untamed countryside.
Opening Hours: 

6:00 am to 6:00 pm (open all days).

Entry Fee: 

Free.
Ooty is called the Queen of the Hills. Discover Ooty and its attractions here.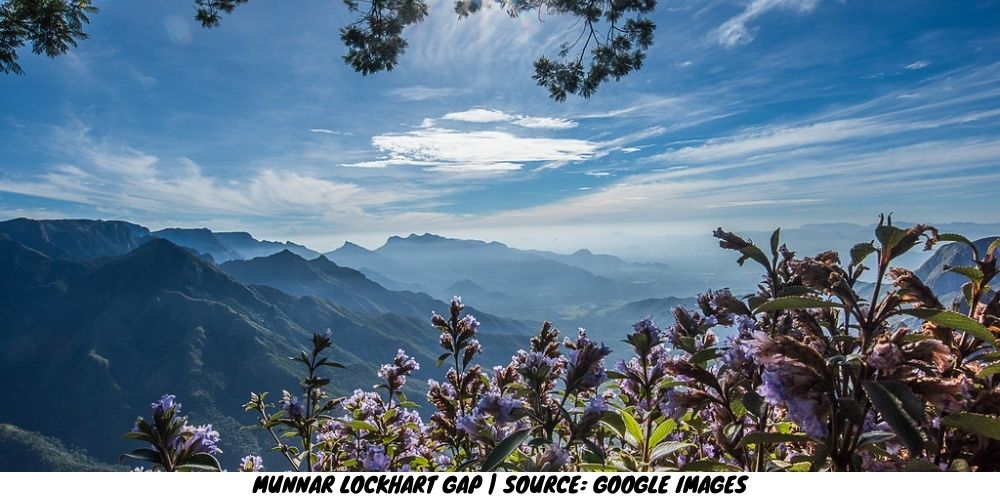 8. Munnar Rose Garden
The Rose Gardens in the heart of Munnar is spread over 2 acres. It is an elaborate garden brimming with beautiful roses, shrubs, and fruit trees. This breathtaking stretch of land offers a maze of vibrant colour and aroma that tourists cannot afford to miss. Many contours and slopes in the garden have pretty flowers like Dahlias, Rose & Chrysanthemums.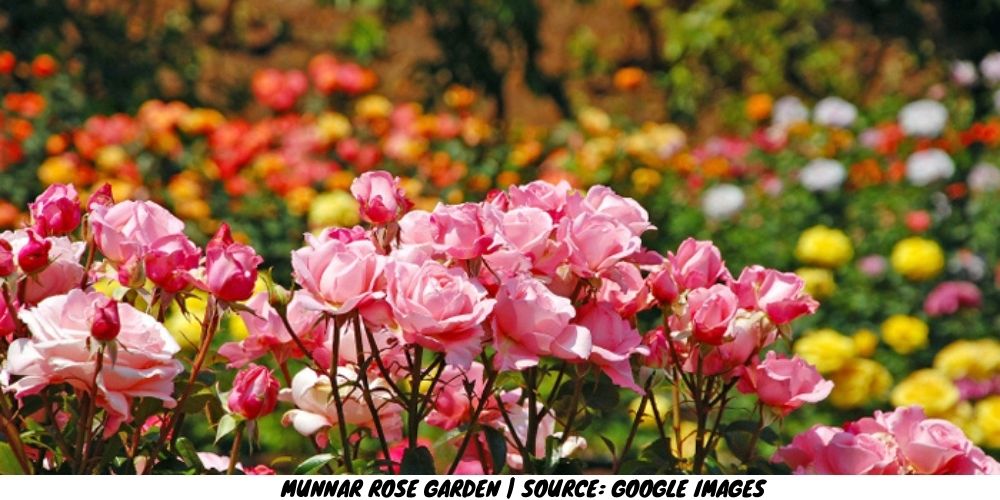 Different spices like cardamom and vanilla, fruits like Litchi, Strawberry, Rumbata, and Amla are grown here. Besides,  tourists can also purchase seeds of flowering plants grown here. Rose Garden is a key tourist attraction in Munnar loved by visitors due to its vibrant collection of flowers.
Opening Hours: 10:00 am to 5:00 pm (open all days).
Entry Fee: ₹ 20 per person.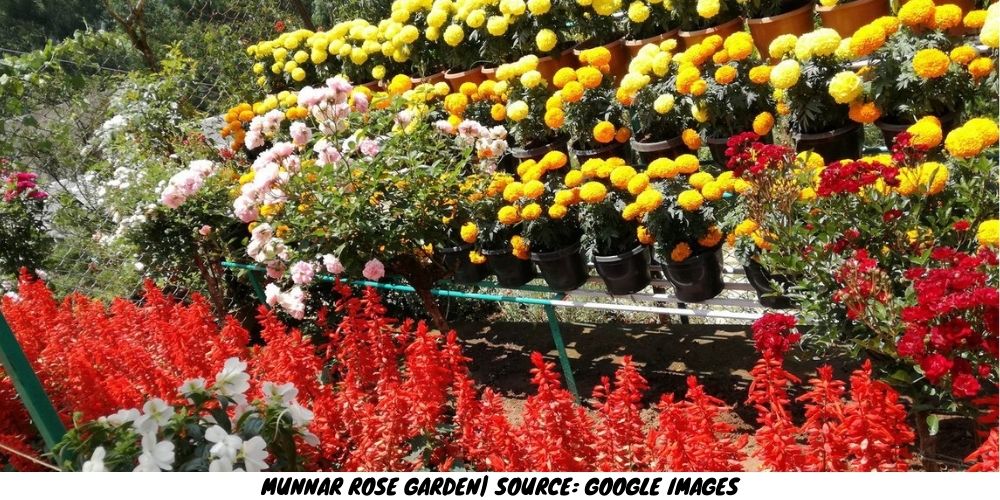 9. Munnar Blossom Park
Blossom Park is a splendid natural garden located beside the Pallivasal Hydro-Electric project site across the Muthirappuzha River. The park is spread over 16 acres and is home to a variety of flowering plants. Besides the park is a children's play area equipped with swings, hammocks, and sandpits. Boating is also a favourite activity here as it is very close to the Muthirappuzha River.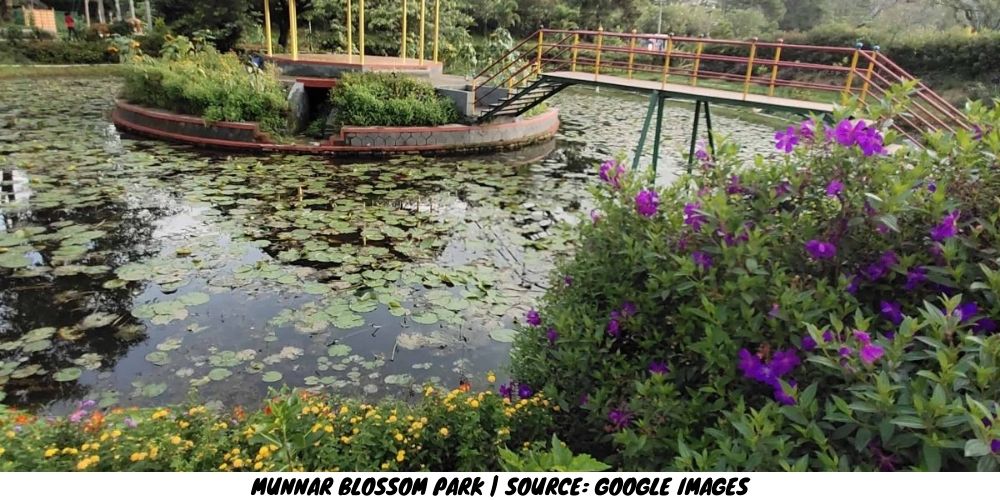 Physical activities for tourists are held here like trekking, roller skating, cycling, and zorbing. Besides, a flower show is also organized for tourists between March and April every year. The park comes to life with a collection of many flowering plants and shrubs on show. The park is a favourite tourist place in Munnar, as it has something for every tourist.
Opening Hours: 9:00 am to 7:00 pm (open all days).
Entry Fee: ₹ 20 per person.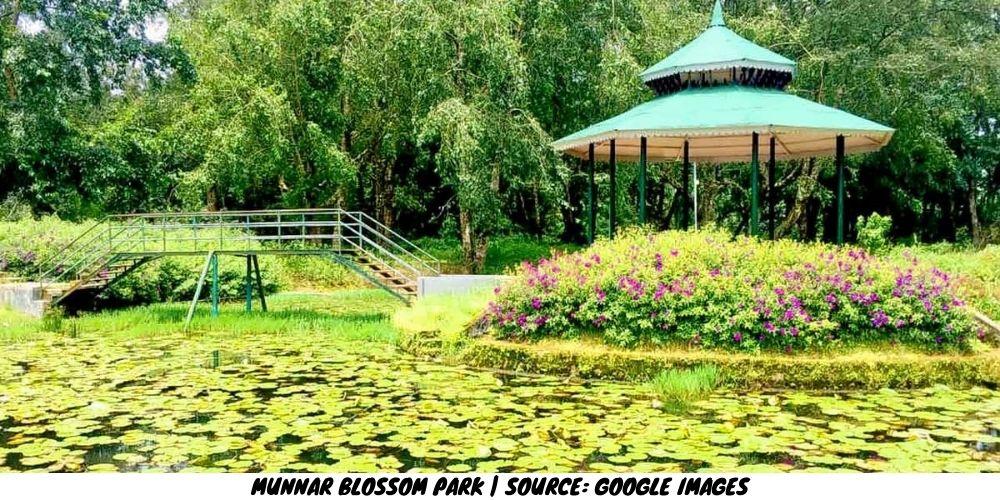 10. Nyayamakad Waterfalls
Nyayamakad is a breathtaking waterfall surrounded by enchanting valleys, lush green tea plantations, and sandalwood forests.  The waterfalls from a height of 1600 meters providing an and delightful water cascade. It is a trekker's paradise offering long trek trails along tea plantations and virgin forests.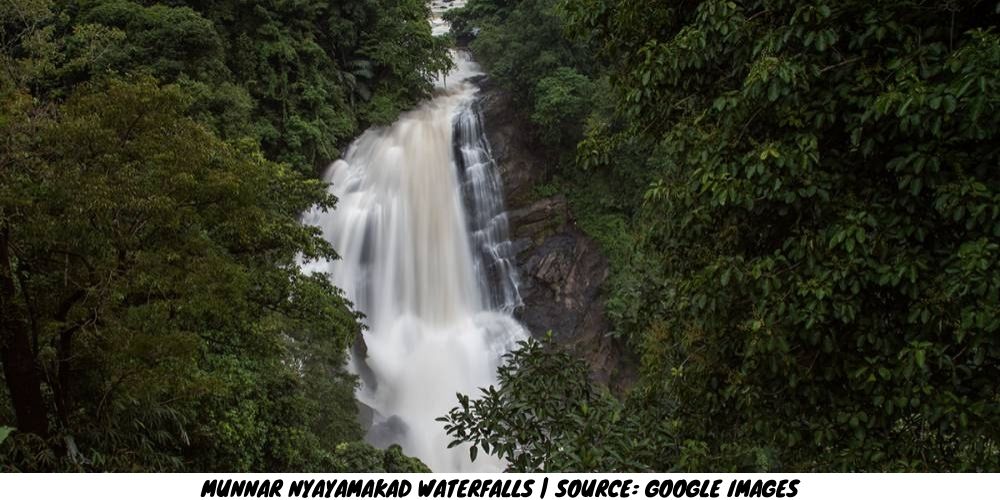 The best time to visit the falls is during the winters when the weather conditions are temperate and pleasant. Nyayamakad offers a marvellous view of the surrounding valleys and the Anamudi peak. Besides this, travellers visit the waterfall first before a visit to the Eravikulam National Park. The park is an exotic tourist place to visit in Munnar for its clean water cascade falls.  
Opening Hours: 9:00 am to 7:00 pm (open all days).
Entry Fee: Free.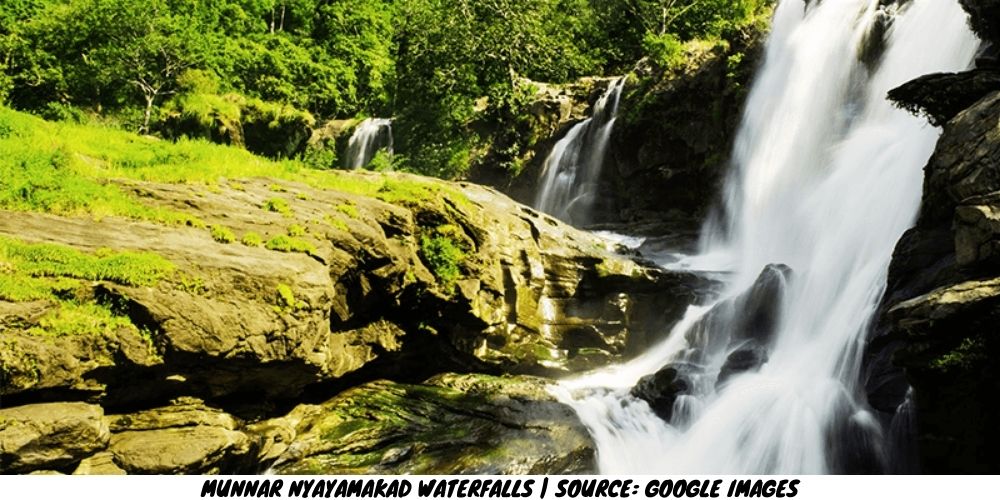 11. Mattupetti Indo-Swiss Farm
Mattupetti's Indo-Swiss dairy farm is set-up to improve the quality of livestock farming in Idukki, Kerala.  The Mattupetti village is also called The Switzerland of Kerala due to the Livestock Project initiated here. Over 400 cattle bred here are of the highest quality since they are a special breed.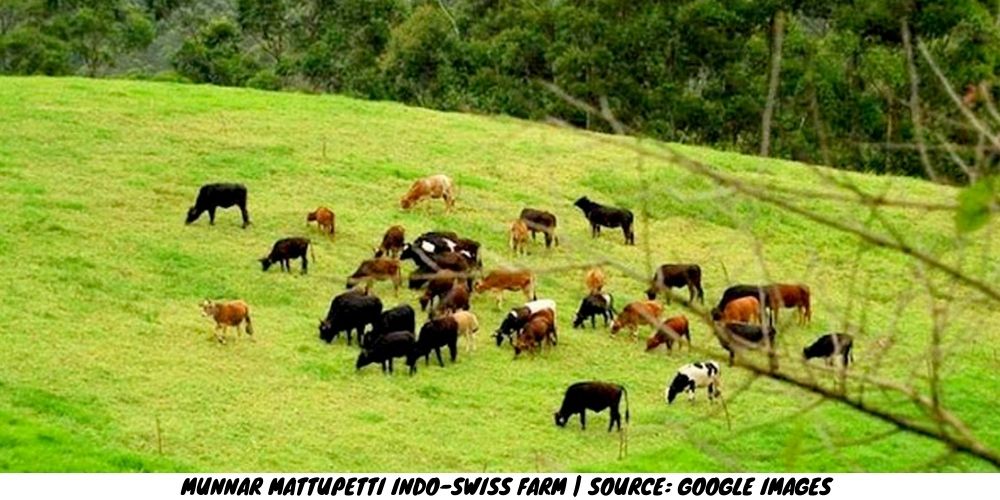 It is a highly specialized dairy farm, a cattle center, and a research center. It has helped the region's animal husbandry by improving the quality of cattle. Which has turned, has improved the quantity of milk produced in the Idukki district. The farm is a unique tourist attraction in Munnar for animal lovers.
Opening Hours: 9:00 am to 11:00 am and 2:00 pm to 3:30 pm (open all days).
Entry Fee: ₹ 10 per person.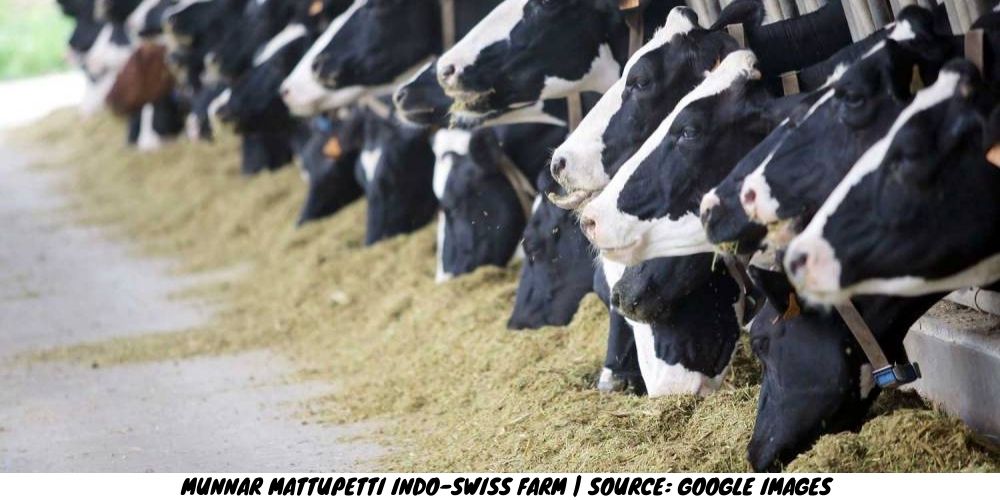 12. Kundala Dam & Lake
The Kundala Lake is 23 km from Munnar, formed by an arch dam built here is 1700 metres above sea level. Kundala's calm lake, green hills, and tea plantations in the background create a serene environment. Cherry blossom trees that flower twice a year make the place beautiful and picturesque.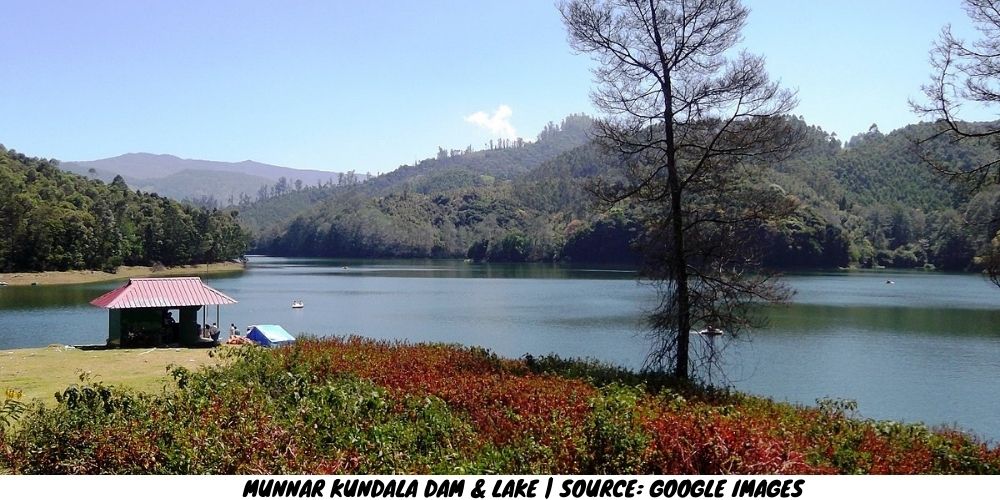 Travellers can enjoy boat rides in Shikhara boats or opt for a pedal boat ride on the lake. Visitors can also try horse rides beside the lake. The best time to visit Kundala dam is when the weather is pleasant between November and May. It is one of the best tourist places to visit in Munnar.
Opening Hours: 9:00 am to 5:00 pm and 2:00 pm to 3:30 pm (open all days).
Entry Fee: Free
Boat Ride:  ₹ 100 boat ride for three.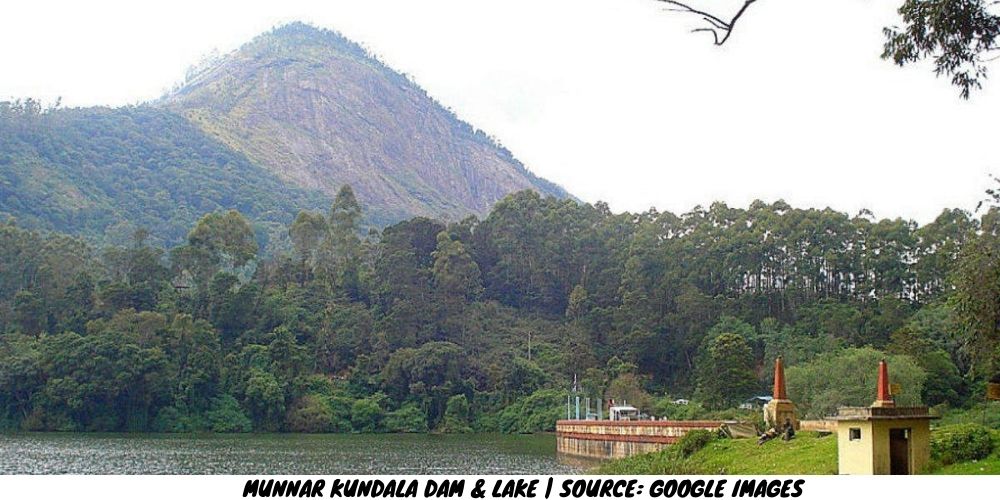 Munnar's Vegetarian Hangouts
Munnar has many vegetarian restaurants serving customers from all over the country. Sree Mahaveer Bhojanalaya is a vegetarian restaurant popular among conservative families like Gujaratis, Rajasthanis, and Punjabis. It's a top pick if judged based on food quality and price. A wholesome meal is complete by opting for an authentic Indian thali meal.
Saravana Bhavan near the Munnar market serves a variety of authentic Indian dishes at reasonable prices. This place is popular because of the ambience and prompt service. Among the recommended dishes are South Indian favourites like dosas, idlis, rasam, and vadas. These restaurants are the finest places to dine in Munnar. 
A Munnar Adventure for all to enjoy …
Munnar in Kerala is a destination that has allured tourists from all over the world for its natural beauty. It's known for its never-ending plantations, clear lakes, vast grasslands, and picture-perfect backdrops. It's time to enjoy a relaxing weekend in Munnar by planning a car-based holiday with Deepam Cabs taxi services.
An idyllic holiday to Munnar is complete only if tourists enjoy the serene lake at Echo point, tour the Kannan Devan Tea museum and discover the sandalwood reserves at Marayoor.
A tour of the Eravikulam National Park is a must-do activity when in Munnar. Enjoying the magnificent sights and sounds at the Kundala Dam and bathing in the Nyamakad Waterfalls is highly recommended.
Tourists can visit the Rose Garden & Blossom Park to enjoy the spectacular beauty of the Munnar Hills. Dining at the finest vegetarian restaurants in Munnar can be an ideal way to conclude a joyous Munnar holiday.