Staying in an all-inclusive resort during a vacation has become increasingly popular in Bangalore.  Resorts differ from hotels in that it attempts to provide guests with all amenities on one roof.  Therefore, resorts offer food and accommodation but also sports, entertainment, and spas.
Resorts offer guests innumerable benefits, promising a fun adventure inclusive of lodging, food, drink, and entertainment. Everything gets paid in advance, which means the freedom to enjoy without worrying about a hefty bill. Some resorts offer all-inclusive offers that include alcoholic beverages, gratuities, and entertainment. 
Golf resorts offer an eclectic mix of golf, water sports, biking, and hiking with yoga and meditation classes. While Spa resorts offer guests service packs for nutritional rejuvenation and physical fitness. It unlikely that guests leave resorts during the entire length of their stay.
Bangalore's Resort Culture
The mushrooming of holiday resorts around Bangalore has been a recent phenomenon. The exceptionally fast-paced growth of this sprawling metropolis has led to diminishing green cover in the city. Bangalore once known for its salubrious climate and sprawling green foliage has lost its charm due to this.
Taking time out from the bustling city life or engaging in a course of ayurvedic treatment is fashionable now. Besides, these resorts are popular among the city's elite and high-earning professionals.
Five Resorts for a Bangalore Day Out
We did some research to recommend some of the resorts near Bangalore. Here are our preferences, getaways to catch up with loved ones beside a campfire, or chit-chat with a mug of beer with friends.
1. Guhuntara Resort
The Guhantara is one of the best resorts near Bangalore. Guhuntara is around 35 km from the Bangalore City railway station. It is situated just off the Bangalore – Mysore national highway.
Many indoor and outdoor activities available at Guhantara help keep boredom at bay.  Guests can indulge in adventure activities like snooker, quad bike, zorbing, and horse riding. 
Its unusual theme is to build an underground resort that offers a typical cave-like ambiance. Besides, Agastya Kuteera spa is popular among both the young and old. Guhuntara can help unwind at one's own pace. A Guhuntara day out costs as low as Rs 800 per person.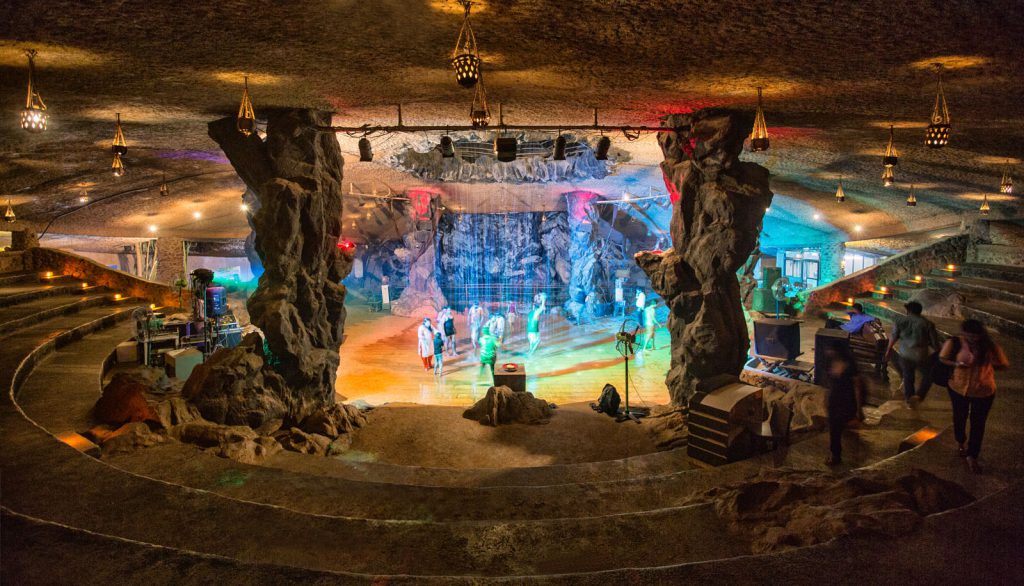 2. Country Club, Mysore Road
Country Club on Mysore Road is an ideal hangout to spend quality time with loved ones and with friends. Country Club is one of the finest resorts in Bangalore's outskirts.  
The Country Club is one of the most luxurious resorts on the city outskirts. Its luxurious services are sought after by every visitor to the resort. Visitors can utilize the many indoor and outdoor sports and gaming facilities dotting the entire campus. 
Guests can experience the finest hospitality with luxurious amenities at very competitive prices. Besides, the club is ideal for large corporate get-togethers and ideal for spending quality time with family and friends. 
The club is filled with some of the best facilities for outdoor activities. Guests love the facilities here including a swimming pool, party lawns, badminton, and basketball courts. A Bangalore day out starts at 9:30 am and closes by 5:30 pm, ideal for groups traveling with little children. 
Country Club on Mysore Road is 25 km from the Bangalore City Railway Station and very close to the Bangalore airport. A fun-filled day out costs ₹ 525 per person that includes a buffet lunch. It is advisable to carry adequate swimwear to never miss out on all the fun at the swimming pool.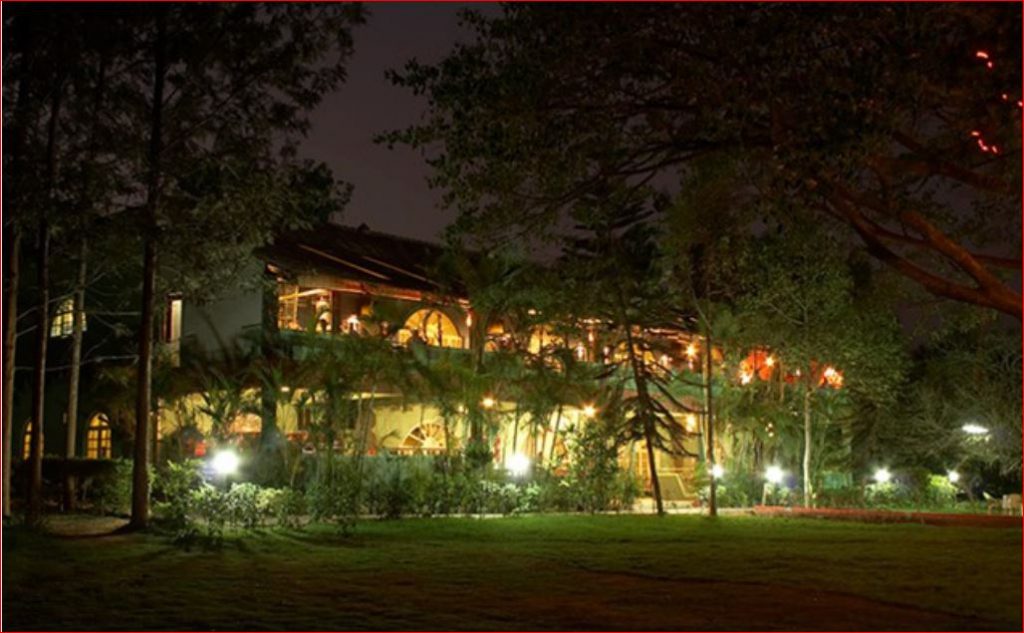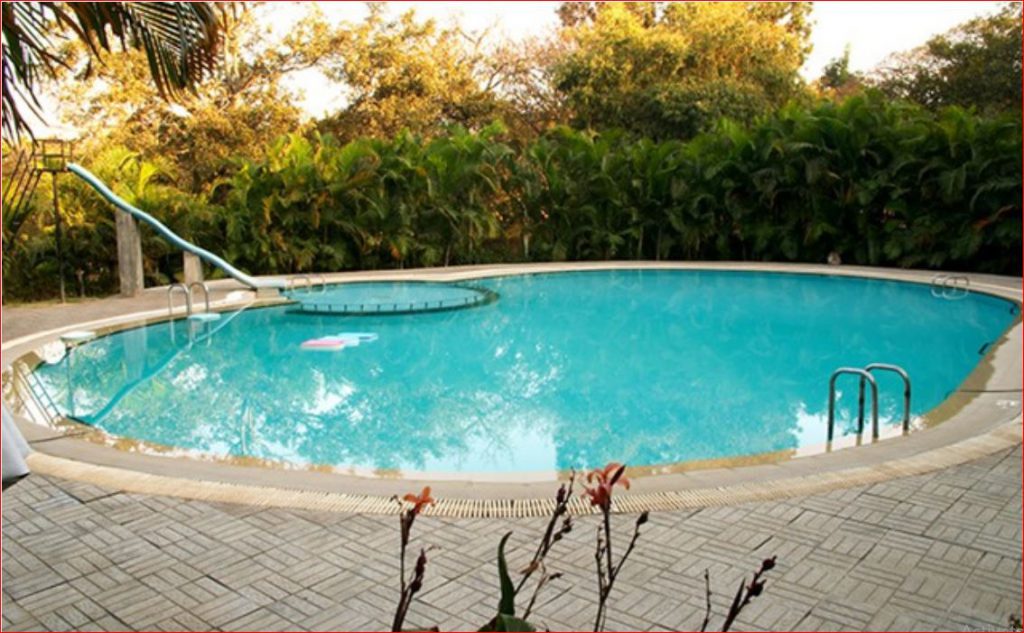 3. Gold Coin Resort
Gold Coin Club & Resort is a specialty resort, 26 km from the Bangalore City Railway station on the way to Hosur. It is one of the few good resorts in Bangalore for a day out with family and friends. Also, a perfect gateway for Bangaloreans to experience an adventurous day out. A spectacular travel escape from the city's monotonous life.  
The Gold Coin club offers well-decked rooms with air conditioning, cable television, and free Wi-Fi. Gold Coin's outdoors features a swimming pool, pool for kids, laundry service, and free parking. A business center at the resort has a well-equipped conference hall. In addition, other amenities here include high-speed internet and superb audio-visual facilities ideal for corporate meetings. 
A Bangalore day out to the resort starts at 9:30 am and closes by 5:30 pm.  A day out here is best enjoyed here by indulging in indoor and outdoor games. Guests can participate in outdoor activities such as snooker, basketball, badminton, and cricket throughout the day. 
Indulging in the rain dance with loved ones is a must-do activity at the resort. Gold Coin's in-house restaurants dish out delicious local and continental favorites to satiate every palette. Guests can check out a variety of coffee specialties at the coffee shop. Besides, a minibar at the resort adds to the exotic experience.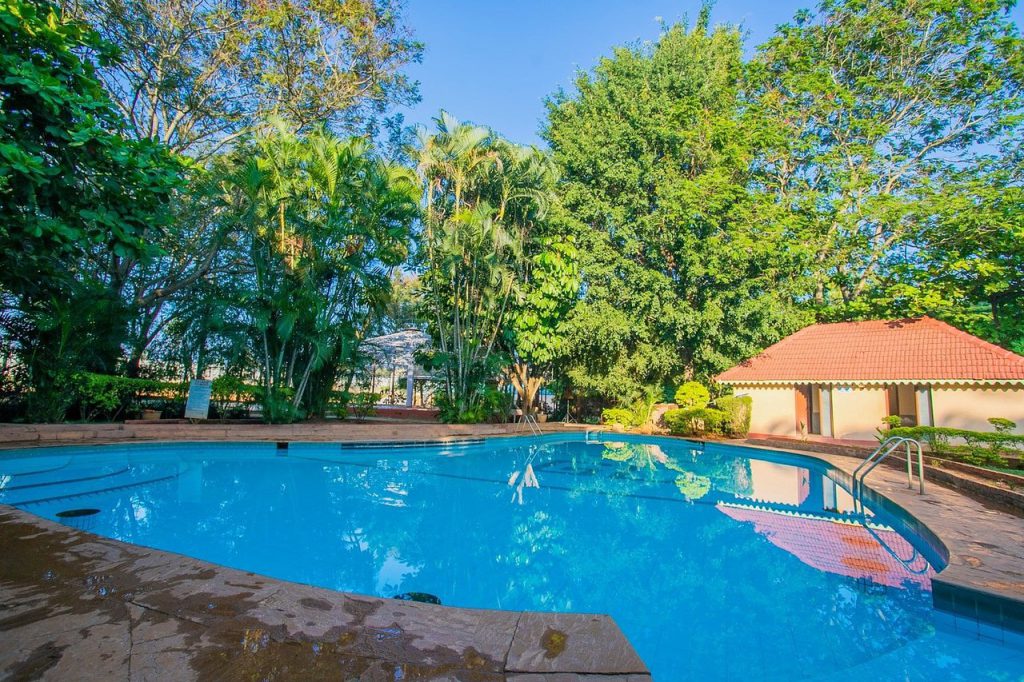 4. Eagleton Resort
Eagleton Golf resort is a popular golf resort, just 30 km away from the Bangalore City Railway station. 
It is situated just off the Bangalore Mysore highway. This 4-star golf resort is ideal for family and corporate team outings. A planned visit to The Innovative Film City is also a good idea before checking into the Eagleton resort. A Bangalore day out starts at 9:30 am and ends by 5:30 pm.
Eagleton is a popular getaway for all golfers, perfect for a game of golf with friends. Besides, the resort has elaborate rooms and suites suitable for all budgets. An ideal resort in Bangalore for a night's stay. Guest can check from a variety of options like standard rooms, deluxe rooms, and executive suites.
Apart from playing golf, guests can try out many indoor and outdoor activities. Games like cricket, volleyball, table tennis, badminton, tennis, and basketball are popular. Eagleton also has a health club, a children's play area, and ten conference halls. 
Fairways, the in-house restaurant, offers a variety of Indian and International dishes to savor. Besides, The coffee shop Feathery offers lip-smacking snacks, steaks, and beverages. The guests can also rejuvenate within the club's meditation area.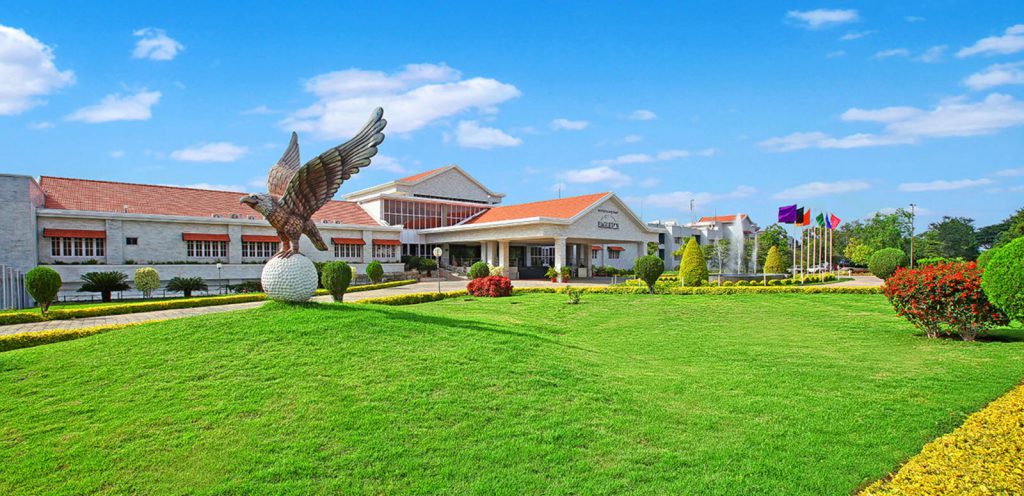 5. Discovery Village – Kanakapura  
Discovery Village in Kanakapura is a nature resort that creates an environment for self-discovery and to spend time amidst nature. Discovery Village is 35 km from the Bangalore City railway station, a two-hour drive from the city. It's one of the few resorts around Bangalore close to wildlife.
The Kanakapura resort offers day outings that are perfect for both adventure lovers and serenity seekers alike. Discovery Village is very close to the famed Bannerghatta National park. Guests can also plan a visit to the Bannerghatta park to enjoy a wildlife safari to see deer, elephants, leopards, jackals, and tigers. 
A perfect day out at Discovery Village is great while indulging in adrenaline-pumping activities. Guest can trek up hills, explore secret caves and follow trek trails into the wilderness.
Guests are kept safe with trained trek instructors who keep an eye on visitors all the time. Discovery Village is perfect for gatherings, reunions, and meets. Participants can revel in nature with bountiful activities like games, adventure activities, and rejuvenation sessions.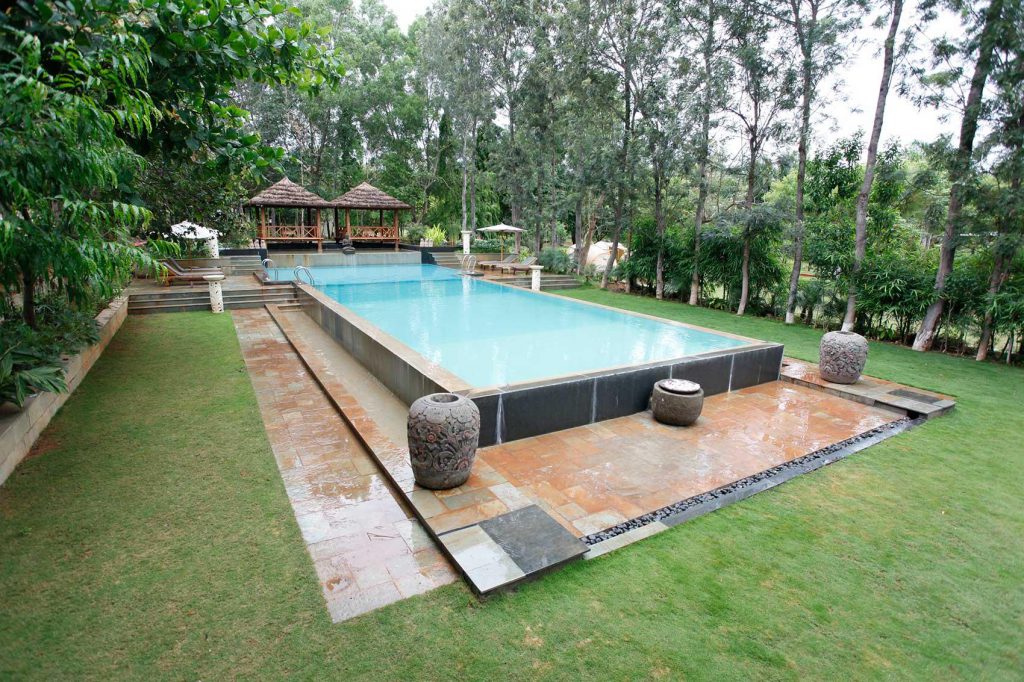 Getting a taxi to visit resorts at Bangalore's outskirts
All these fascinating day-out resorts in Bangalore's outskirts can be reached by booking a day-long taxi service.
U-Taxi's cost-effective taxi rental services in Bangalore are one of the best options available for travelers. Besides, U-Taxi is one of the best taxi services in Bangalore providing premier taxi rentals.
U-Taxi's simple online taxi booking solution connects customers to taxi owners. Besides, U-Taxi's fleet includes pocket-friendly hatchbacks, sedans, SUV's and TTs. These options are easily customizable to every travel need and budget.
Enjoying a splendid resort stay for a much-needed break…
It's good to let one's inner child out while enjoying exciting outdoor and indoor games at these getaways. Resorts make it convenient and easy for their guests. Besides, resorts let guests experience an adventurous day-out with family and friends at pocket-friendly prices.
Some resorts offer day-long activities filled with a power-packed experience filled with excitement, adventure, and relaxation. Resorts offer a perfect getaway to leave the hustle and bustle of everyday life behind for some time.