Thekkady in the Idukki district of Kerala is a hill paradise. A land of imposing mountains, adulating landscapes, protected forests, and roaring waterfalls. Thekkady is home to the Periyar National Park the country's largest wildlife sanctuary. It is also a nature lover's heaven, home to scintillating backdrops and scenic landscape. A splendid Thekkady holiday is incomplete without visiting the many tourist gems the hill station has to offer. 
The abundance of water from the Periyar dam has spawned numerous cardamom, tea, and coffee plantations. With these natural wonders found all over the Idukki district, travellers have some of the most breathtaking tourist hotspots to discover. Besides, Thekkady is home to the Periyar Tiger Reserve, one of the best places to see the magnificent tigers. India's only Tiger reserve has bountiful treasures like over 35 tigers, 35 species of mammals, and over 266 bird species.
Winters are the best time to visit Thekkady. It is a destination which has allured tourists from all over the world for its natural beauty.  Enjoying an elephant ride, trekking a tiger reserve, purchasing organic spices and boat rides are all there waiting to be discovered.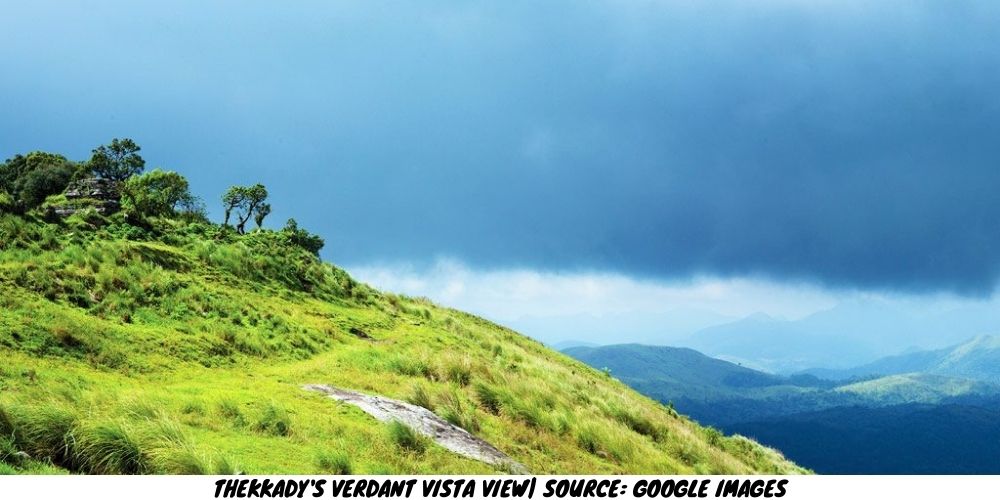 Tourist Place to Visit for a Splendid Thekkady Holiday. 
Thekkady is breathtakingly beautiful. A splendid sojourn from Bangalore to Thekkady can be filled with fabulous places to see. From mountain peaks, theme parks, and wildlife sanctuaries this place has it all. Here are ten places to visit in Thekkady every Bangalore tourist must check out.
1. Thekkady Periyar National Park
A visit to the Periyar Wildlife Sanctuary lets tourists a unique opportunity to explore rare flora & fauna. The protected area encompasses both an elephant and tiger reserve. While over 925 sq km are protected areas, around 305 sq km is the core area that preserves the tigers. Periyar Lake formed after constructing the Mullaperiyar dam is built across the Pampa and Periyar rivers that flow from the Cardamom and Pandalam hills.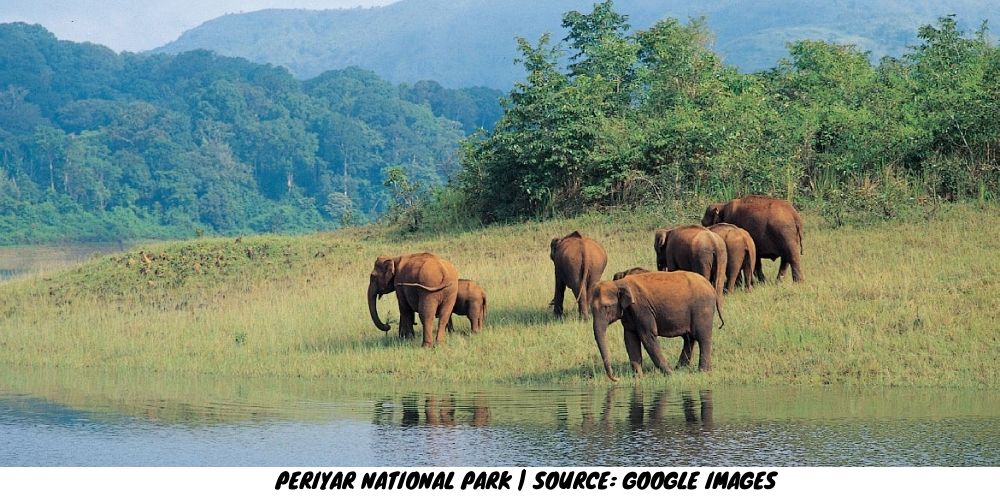 The Mullaperiyar dam creates the Periyar Lake measuring 26 sq km. All life in the forests seems to revolve around the lake. There were over 35 tigers found inside the park in 2017. 
Besides this, more than 35 species of mammals like gaur, sambar, wild pig, and sloth bears can be found. Also, 266 species of birds like the Malabar grey hornbill, blue-winged parakeet, and white-bellied blue flycatcher were sighted. 
The Periyar trout, Periyar Latia, Periyar barb, channa barb, and Travancore loach are some of the fish found in Periyar Lake. Tourists can avail of boat cruises, jeep & elephant safaris operated by the forest department throughout the year. The National Park is a top sightseeing place when touring Thekkady.
Opening Hours: 6:00 am to 6:00 pm (on all days).
Entry Fee: ₹ 25 per person.
Other Fee: Still Camera ₹ 100 Video Camera ₹ 250.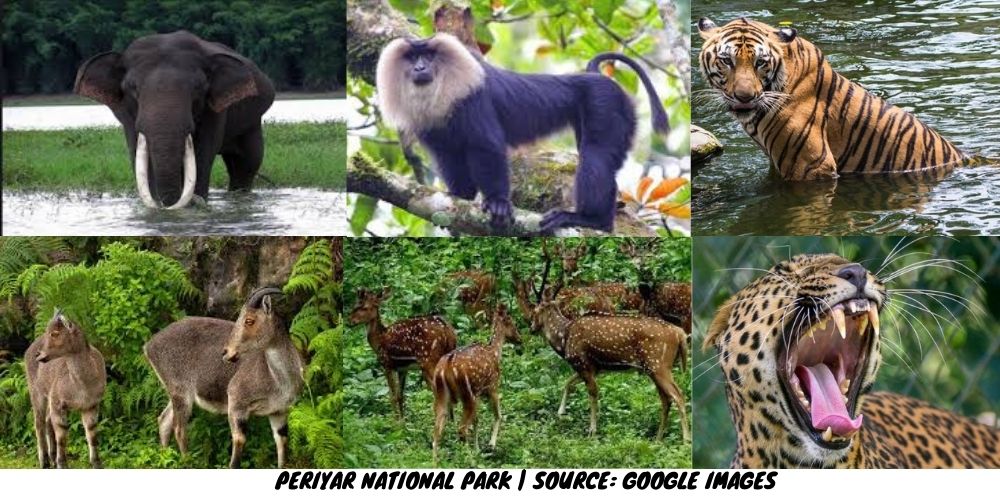 2. Thekkady Lake
The Periyar Lake is a fascinating tourist place in Thekkady, inside the Periyar National Park & Wildlife Sanctuary. The lake was created when the river when the Mullaperiyar dam was built across her banks. Bird watching is a favourite pastime for tourists at the lake. Many migratory birds like the steppe gull, the black-necked stork, the great hornbill, and the Malabar grey hornbill can be sighted.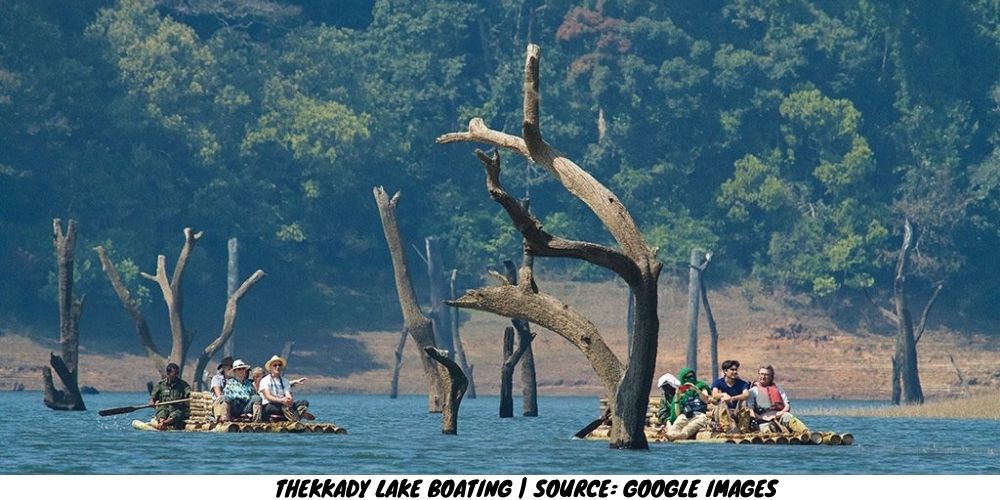 Mullaperiyar dam adjoining the lake is a must-see tourist place in Thekkady. Enjoying the sights of the water cascading down from 155 ft is never to be missed.  Nature lovers will soak in the tranquillity and serenity beside the lake. Periyar lake offers a holistic view of diverse wildlife like tigers, elephants, Indian bison, and macaques.
Tourists have to purchase two entrance tickets first to enter the National park and the second for a boat ride on the lake. Boating is a must-do activity when in Thekkady.
Opening Hours: 6:00 am to 6:00 pm (on all days)
Entry Fee: ₹ 25 per person.
Boat Ride: ₹ 225 per person.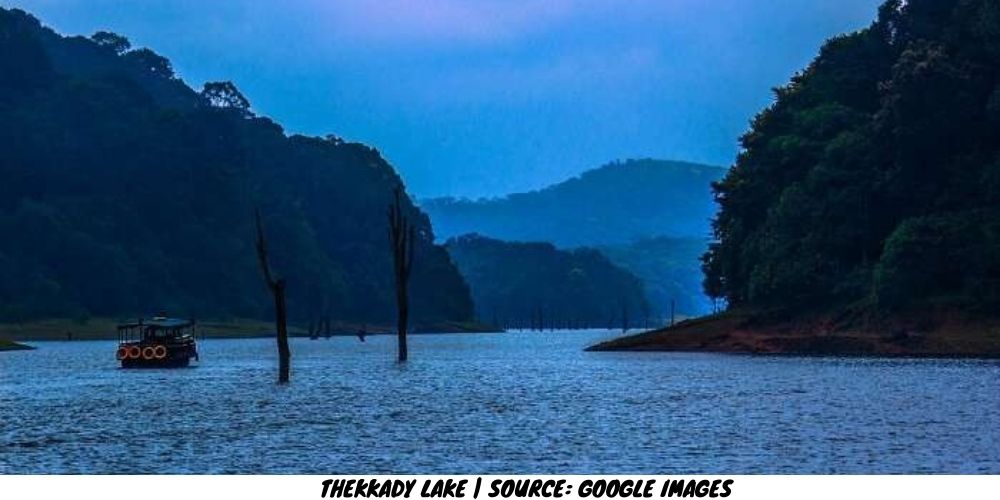 3. Thekkady Ramakkalmedu
One of the most invigorating tourist places to visit in Thekkady. Ramakkalmedu is a hill station and a hamlet in the Idukki district of Kerala. The place is famous for its panoramic natural beauty and for numerous windmills that are operational. The ecosystem of Ramakkalmedu consists of grasslands, shola trees, and bamboo forests. The unceasing winds have meant many windmills being set up by private players.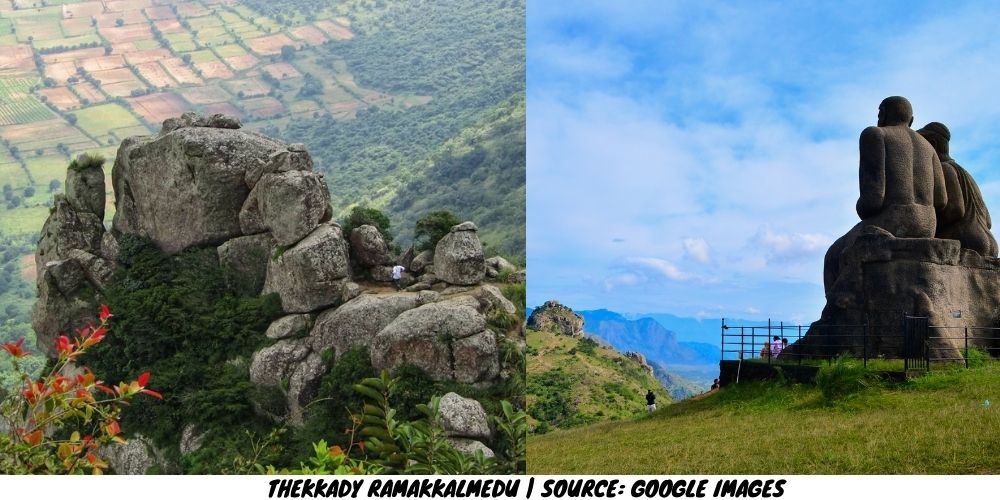 Kuruvan and Kurathi are two large statues here that depict life in the Sangam period. The view of the towns in Tamilnadu is striking at dusk when lights turn on for the night. Rolling green hills and the fresh mountain air make Ramakkalmedu an enchanting retreat. Ramakkalmedu is a unique tourist experience when in Thekkady.
Opening Hours: 6:00 am to 6:00 pm (on all days)
Entry Fee: Free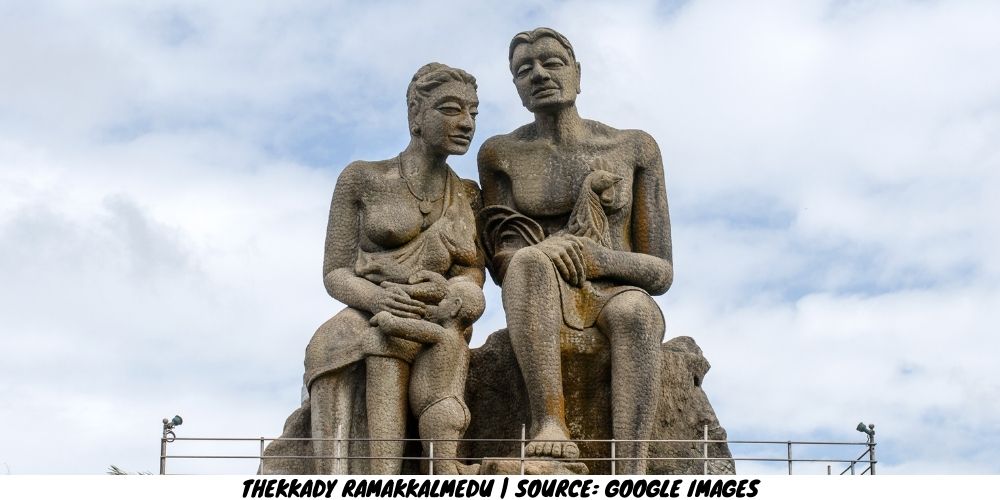 4. Thekkady Chellarkovil Waterfalls
One of the most gorgeous Thekkady tourist places, Chellarkovil is a scintillating village, surrounded by lush green surroundings and scenic countryside. While the Chellarkovil waterfalls look enchanting during the monsoon season. The water is utilized for irrigation when the stream reaches Tamil Nadu.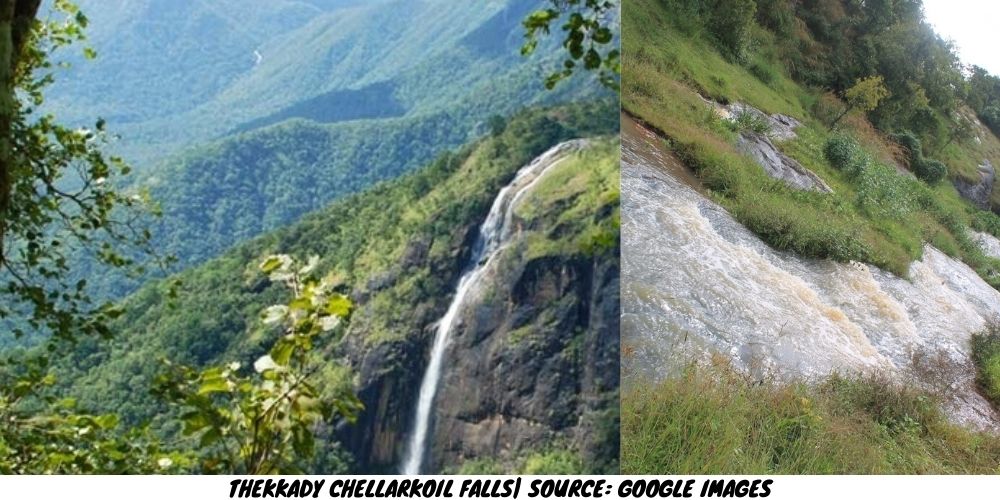 A telescope from a place called 'God's Own Balcony' offers a stunning view of the sunrise and sunset. Chellarkoil Falls near Thekkady gives tourists a chance to experience a fabulous view of the waterfalls from a distance.
Opening Hours: 6:00 am to 6:00 pm (on all days).
Entry Fee: ₹ 20 per person.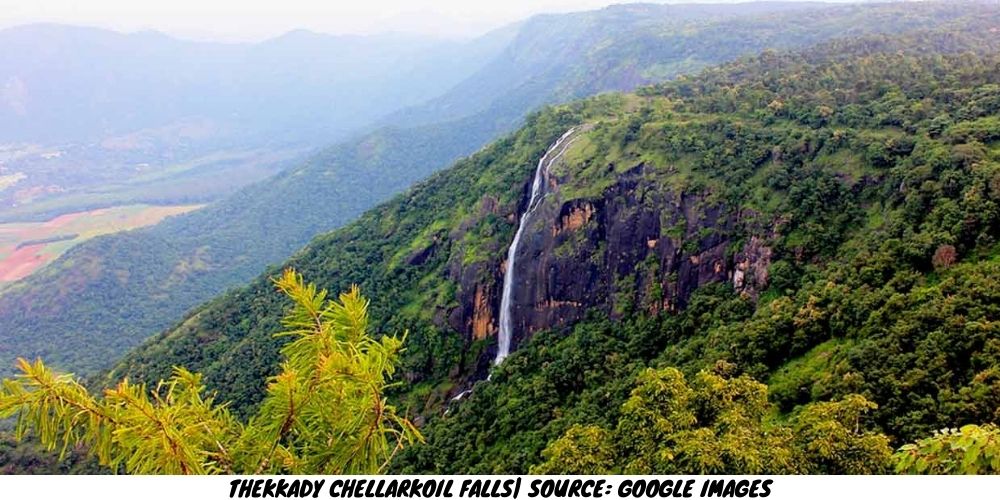 5. Thekkady Periyar Interpretation Centre
The Periyar Interpretation Center is an interesting tourist place in Thekkady. A natural history museum located inside the Periyar Tiger Reserve. The centre resembles a honeycomb, with separate enclosures for each unique exhibit.
In addition, the exhibits represent the unique flora and fauna found inside the tiger reserve. Many computer screens, 3D models, and charts depict the many plants and animals found at the tiger reserve.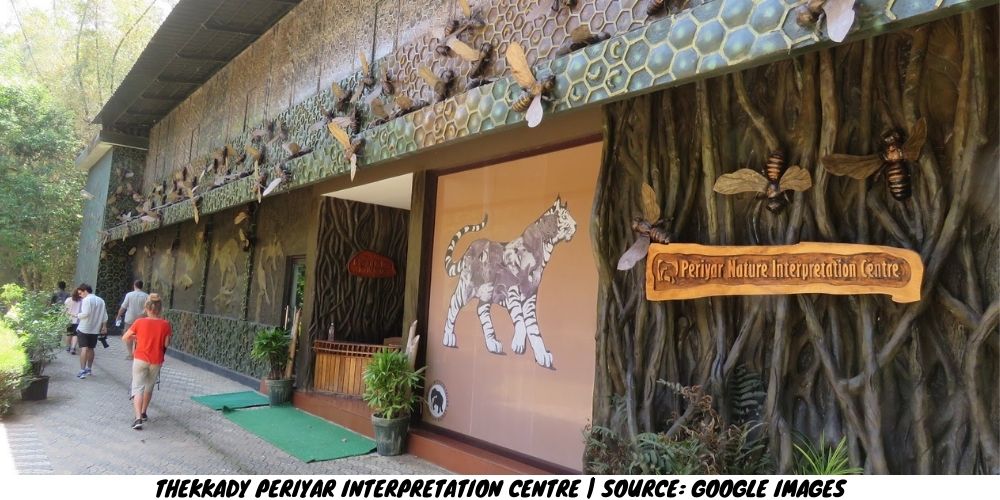 Plaques containing information about the exhibits educate tourists about the natural treasures found at the Periyar Tiger Reserve.
The 3D models render a three-dimensional viewer experience with sounds of waterfalls, hissing snakes, roaring tigers, and chirping mongoose synchronized with visuals on screen. Tourists are sure to leave with a sense of wonder, curiosity, and respect for nature. Periyar Interpretation centre in Thekkady is a one of a kind museum that tourists can discover at leisure.
Opening Hours: 9:00 am to 4:00 pm (on all days).
Entry Fee: ₹ 50 per person.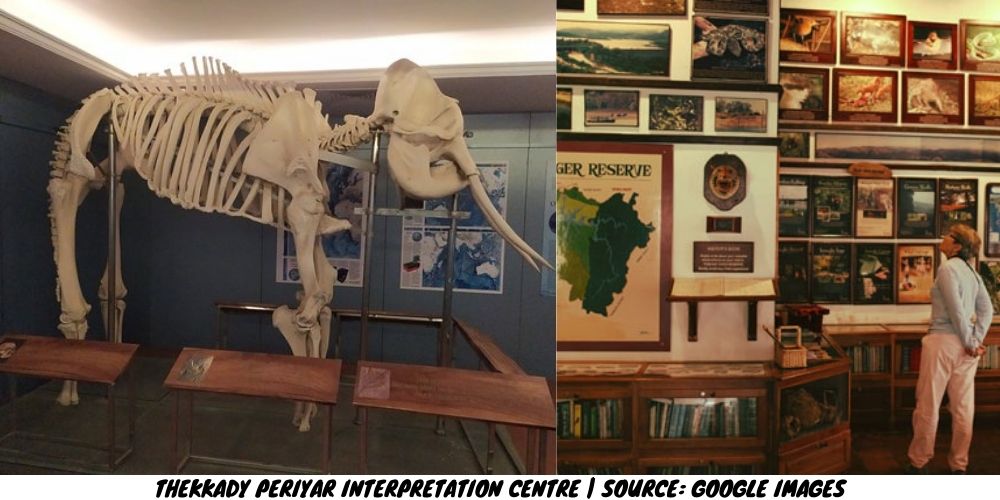 6. Thekkady Elephant Safari
A Thekkady elephant ride takes tourists on a breathtaking ride through tea and cardamom plantations. Trained mahouts accompany tourists always on these elephant safaris. These rides go deep into the Periyar forest reserve that offers tourists a chance to sight wildlife like bison, guar, and sambar deer.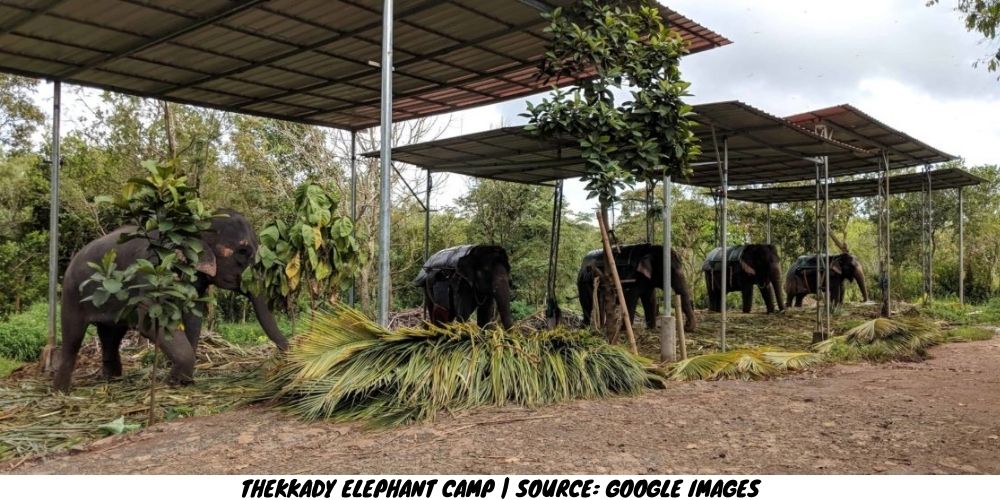 The elephant safari starts from Elephant Junction, just 4 km from Kumily. An elephant camp visit in Thekkady is highly recommended for tourists who want to have time for themselves amidst nature.
Opening Hours:  8:00 am to 6:00 pm (on all days).
Entry Fee: Free.
Elephant Ride: ₹ 400 for ½ hr ride.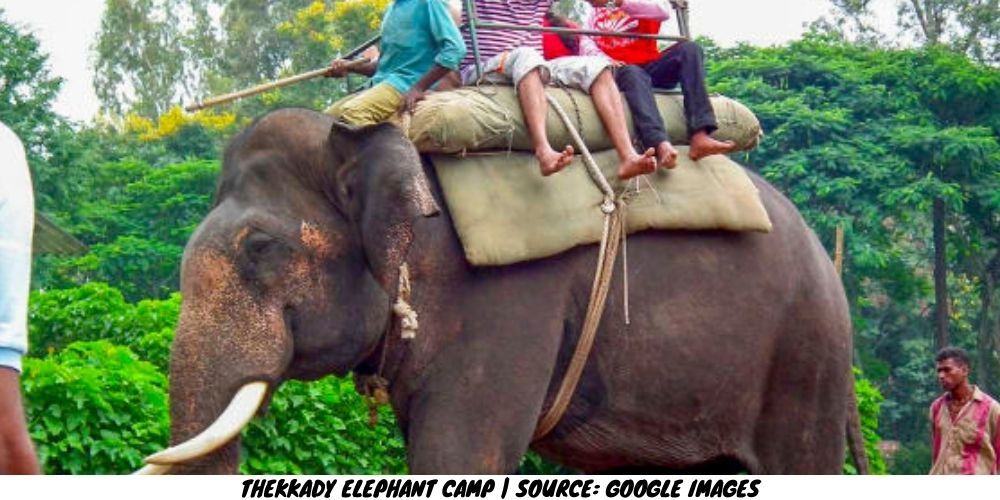 7. Thekkady Kadathanadan Kalari Centre
One of the most interesting Thekkady tourist places is Kadathanadan Kalari Center.  Kadathanadan is a well-known place famous for performing Kalaripayattu martial arts and representing Kerala's unique culture. Kalaripayattu is a martial art form originating in Kerala. This art form is designed for preparing men for battle. It's a combat technique that includes strikes, kicks, grappling, weaponry, and healing methods.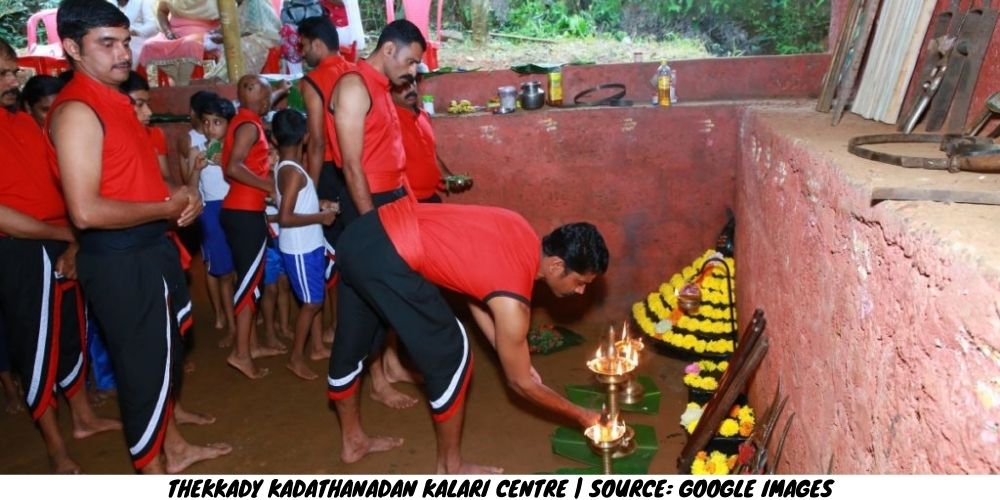 In Kalaripayattu weapons-based techniques are taught first, and barehanded combat is taught last. Kalaripayattu practitioners possess an intricate knowledge of pressure points on the human body and healing techniques from Ayurveda and Yoga.
Warriors use very light body armour, to enhance flexibility and mobility during a fight. The acrobatic displays will fascinate any tourist visiting the Thekkady Kalari centre. Tourists can enjoy a live demonstration every day from 6:00 pm to 7:00 pm. 
Opening Hours:  8:00 am to 10:00 pm (on all days).
Entry Fee: Free
Live Show: ₹ 200 per person (for 1-hour show)
Read More About Munnar and its Attractions here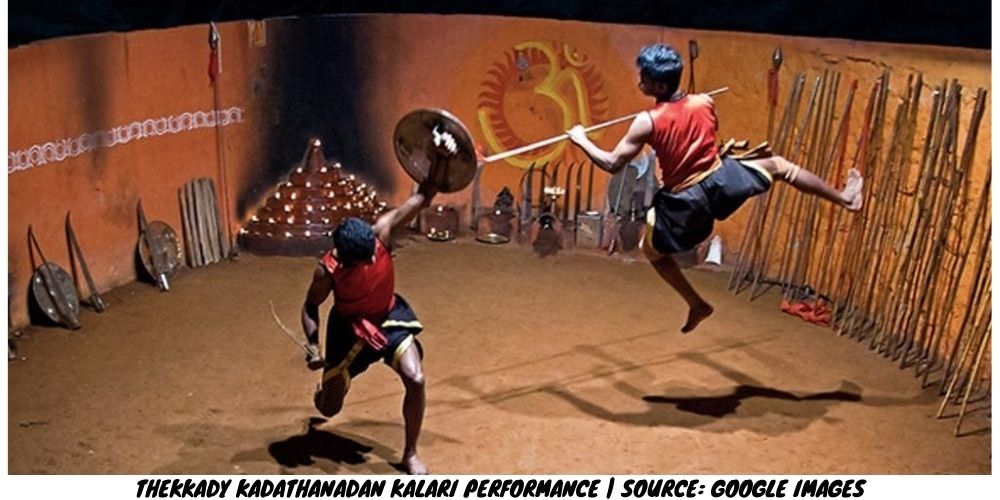 8. Thekkady Greenpark Ayurveda & Spice Plantations
Thekkady's Green Park & Spice Plantation is a spice village in Thekkady. It is an eco-park established to grow medicinal herbs and plants. The plantation possesses in-depth knowledge of the art of growing the spices using advanced agricultural techniques. Tourists to the plantation are welcome with a friendly smile by the plantation staff.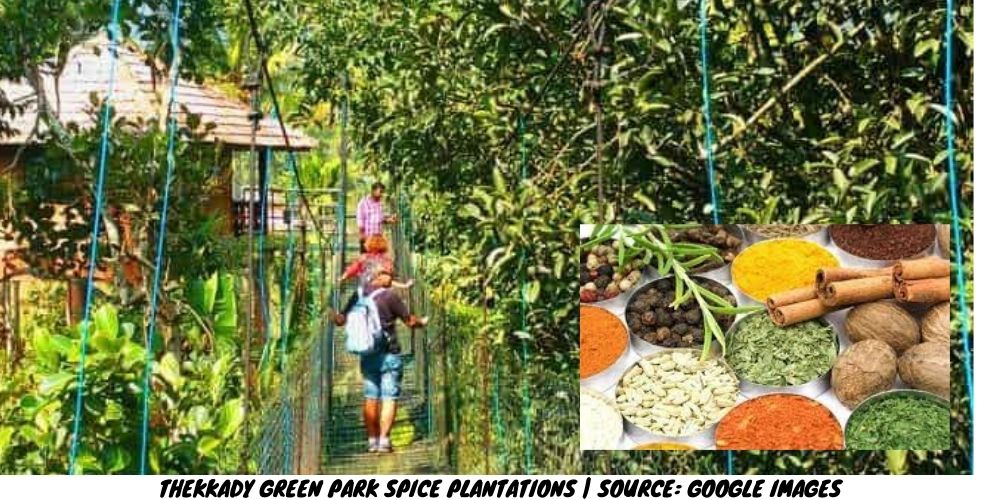 The eco-friendly park is designed with splendid attractions like honey bee colonies, a natural fish aquarium, artificial paddy fields, and fruit plantations. It is a wonderful experience to see the tiny orchids of cardamom, the amorous coffee, cherries, vanilla capsules, black pepper, etc growing in a natural environment.
A stroll through the park is a joy with many suspension bridges that connect different enclosures inside the plantation. The other attractions include the treehouse, a spice garden, and an organic farm. The Green Park in Thekkady is a unique experience for tourists because of the many herbs and spices grown here. 
Opening Hours:  9:00 am to 6:00 pm (on all days).
Entry Fee: ₹ 100 per person.
Also Read About A Kodaikanal Holiday with UTaxi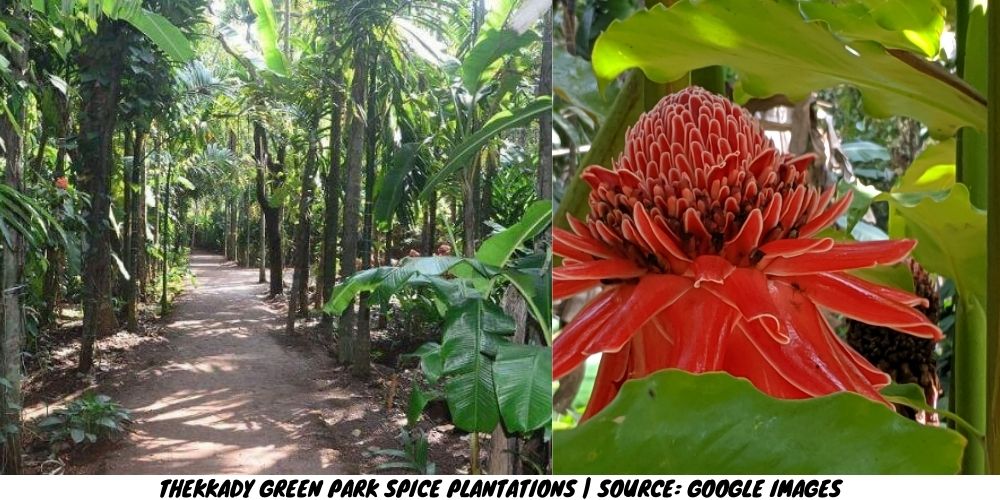 9. Thekkady Kathakali Performance at Mudra Cultural Centre
Kathakali is a classical dance form unique to Kerala. These performances portray vivid emotions like love, hatred, devotion, and anger. The themes are usually from folk mythologies, religious legends, and epics from the Hindu scriptures.
Men usually perform these plays as a story-play in elaborate costumes. It combines devotion, drama, dance, music, and makeup. Besides this, five prominent types of makeup depict different characters during a performance.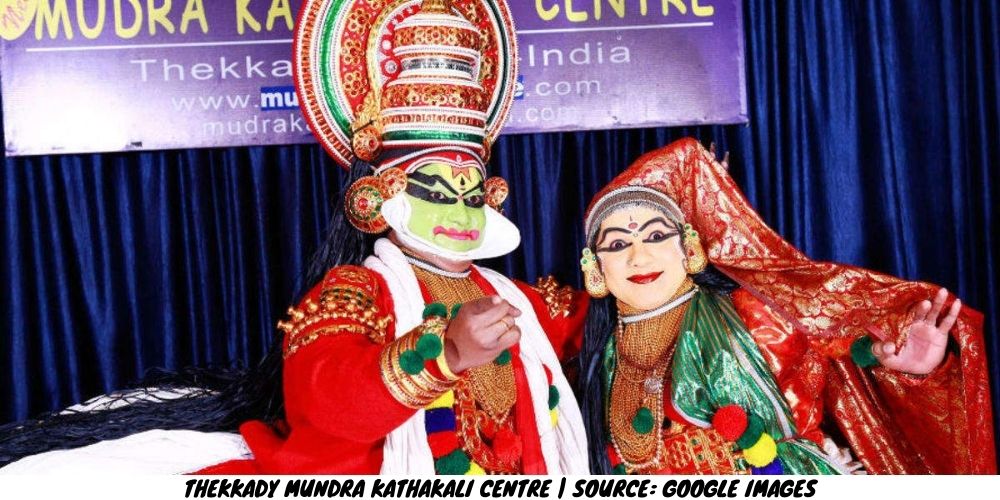 Mudra Kathakali Cultural Centre is a must-visit tourist place in Thekkady. Live performances of Kathakali are performed regularly here. Tourists can witness the painstaking effort of artists while they put on their splendid attire before a performance. 
Opening Hours:  5:00 pm to 9:00 pm (on all days).
Entry Fee: ₹ 200 per person.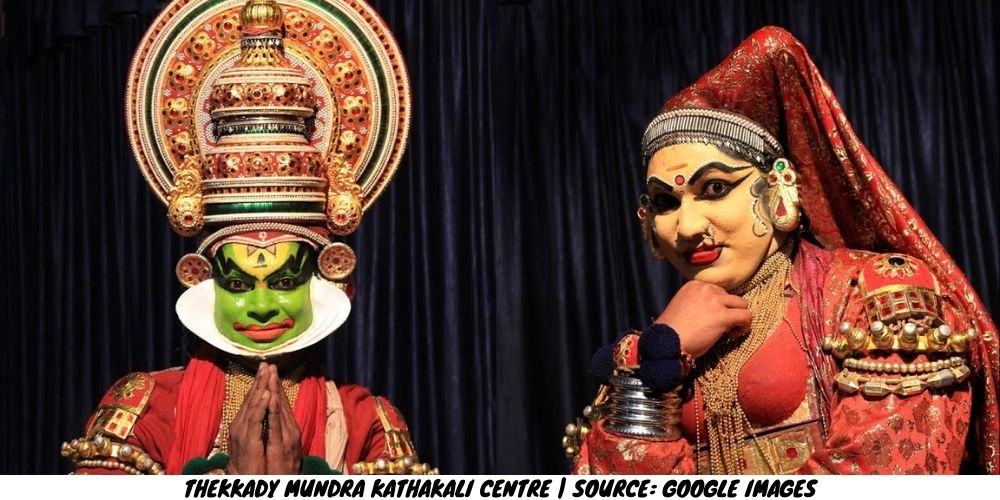 10. Thekkady Periyar Tiger Trail
The Periyar Tiger Trail is a protection-oriented trekking program passing through the hills and valleys of the reserve. Guides who once were poachers accompany tourists through the thick jungles of the wildlife reserve.  These expert guides help pitch tents and cook food for the participants.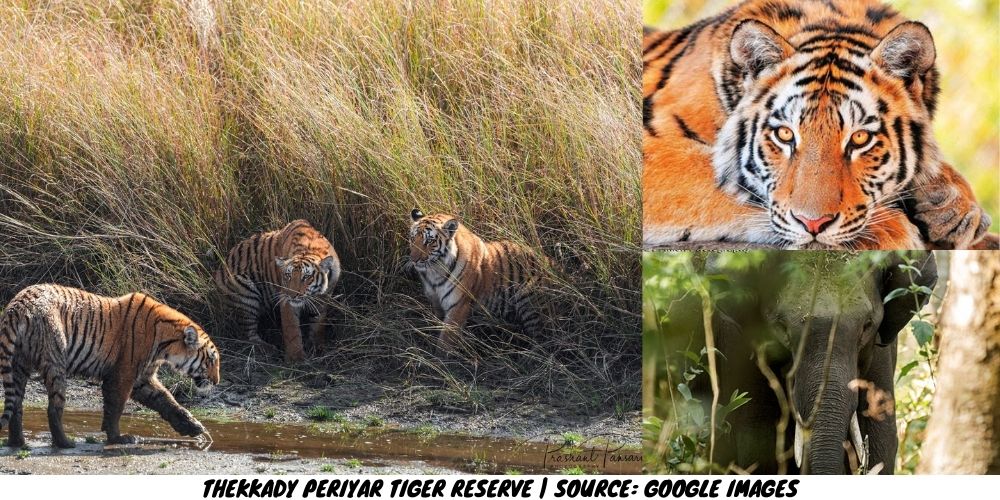 This program's designed for two days and a night stay inside the reserve amongst the wild. Tiger trails are for the mentally and physically fit, apt for lovers of the wild.
Trekkers can encounter a lot of wildlife like the Nilgiri Langur, the Giant Squirrel, and herds of elephants. Spotting the elusive tiger is usually a bonus when trekking through the forest.
Periyar Tiger Reserve treks are immensely popular as the local folk who were once poachers have in-depth knowledge of the landscape and have helped protect the elusive tiger from poachers. The tiger trail in Thekkady is not for the faint-hearted. However,  tourists who are wildlife enthusiasts will love this trek. 
Trail Program 1: One night & Two days @6500 per person, 6 persons per group.
Trail Program 2: Two night & Three days @9500 per person, 6 persons per group.
Time slots: Twice a week starting at 9:00 am.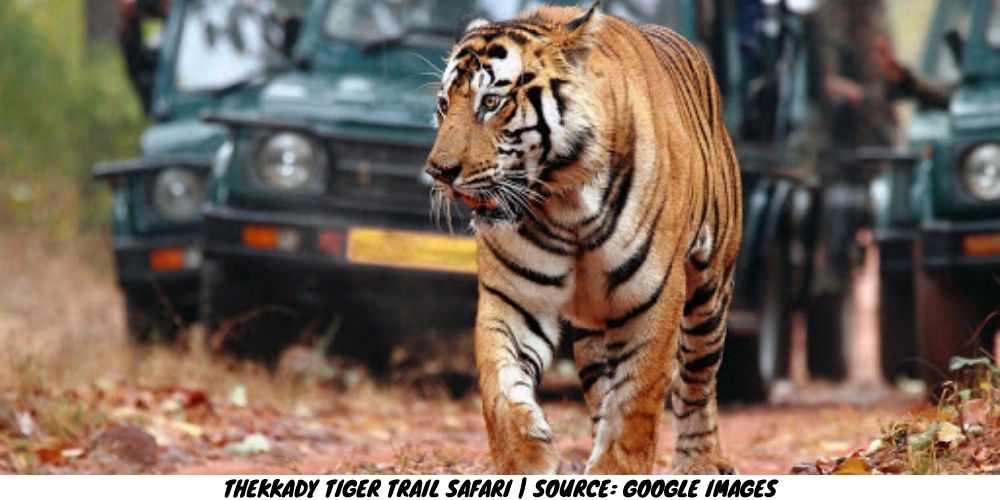 A Splendid Thekkady Holiday Travellers from Bangalore will love…
Thekkady from Bangalore is a 510+ km journey while planning to travel via Salem. This journey can be made affordable and safe when opting to travel by U-Taxi a taxi rental company from Bangalore. It has been helping people to enjoy wonderful holidays with family and friends.
U-Taxi's outstation taxi service offers low-cost taxi rental services to any destination in South India. It provides the best outstation taxi service in Bangalore.  Its mission is to keep its customers happy with affordable outstation taxi service in Bangalore.  U-Taxi is sure to keep everyone happy with pocket-friendly taxi rates. 
Roam, Trek Explore to Enjoy a Splendid Thekkady Holiday.
Thekkady is a destination for all seasons. Besides, it is a perfect getaway to enjoy a wholesome holiday with family and friends. Tourists can enjoy different adventure activities like trekking, rafting, jeep safaris, and bamboo rafting. Tourists will love Thekkady's cool and pleasant climate. Furthermore, tourists can enjoy the vibrant culture of Kerala by witnessing Kathakali & Kalari performances in Kumily. 
Thekkady is known for its never-ending plantations, clear lakes, vast grasslands, and picture-perfect backdrops. It is a perfect retreat for anyone who loves adventure, wildlife and has a penchant for the arts. A Thekkady holiday is complete only after finishing a tiger trail trek, have enjoyed a Kathakali Kalari performance, and visited an Ayurveda spice park.  This land is captivating, mesmerizing, and resplendent a must-visit for all travel aficionados.
Thekkady regales its visitors with the history of tea and spice plantations in Kerala. This quaint city is draped in simplicity and adorned in bio-diverse landscapes and wildlife teeming with life. Thekkady is not a travel destination but an experience in itself.