People experience serendipity when they discover something delightful or experience anything that is breathtakingly beautiful.   Your mind is constantly on the go with thoughts, memory, and emotions.  Better sleep, positive energy, and stress relief are key to experience bliss and tranquility.
A relaxed body and a peaceful mind hold the key to better living. Besides, meditation and rejuvenation travel is the perfect excuse to enjoy serenity and quietude.  A visit to Kerala's off-beat travel locations is a good way to leave behind one's worries for some time.
Kerala is stunningly beautiful. It has been featured in travelogues for centuries. Descriptions of its divine natural beauty continue to this day. Kerala unfolds itself as a stunning vista of heart-rending forests teeming with vivid flora and fauna, lucid emerald backwaters, beautiful lagoons, and a tale of exotic wildlife. 
Ten Blissful Offbeat destinations to discover in Kerala
A good way to gauge and soak in these splendid experiences is by discovering Kerala's offbeat travel locations replete with magnificent travel gems. So, here are ten blissful offbeat tourist places in Kerala that will excite travelers eager for a delightful and tranquil travel escape.
1. Backwaters in Kuttanad
Discovering the Kerala backwaters can be a reposeful and soothing experience. This elaborate network of brackish lagoons and lakes offer some breathtaking views of the Kerala countryside. A labyrinth system of interconnected canals, rivers, and inlets is fed by 38 rivers, forming over 900 km of waterways.
The backwaters create a unique ecosystem where freshwater from the rivers meets the saltwater from the Arabian Sea. Many barricades are constructed across these waterways to prevent saltwater from entering deep inland. These spectacular backwaters are strikingly magnificent when viewed from a boathouse. A soothing ride on these backwaters will seem as though mother nature is singing a gentle lullaby at every slight wobble of the boat.
Kuttanadu backwaters in the Alapuzzha and Kottayam regions traverse through vast paddy fields, and palm groves ideal for a perfect holiday. Besides, these backwaters attract exotic birds and fish species. Waterbirds such as terns, kingfishers fill the countryside making it ideal for a picturesque view.
The beauty of these phenomenal backwaters has left every traveler in awe since time eternal. Kuttanad Backwaters are the most serene tourist places in Kerala. No amount of Googling can replace hands-on travel to the Kuttanad backwaters.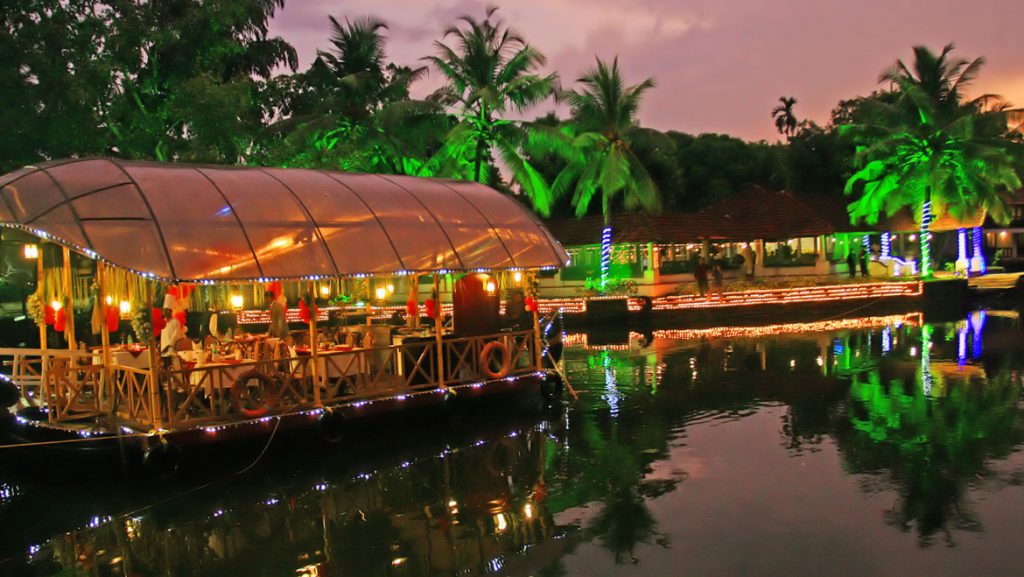 2. Lockhart Gap, Munnar
Munnar is a beautiful, picturesque hill station in God's Own Country, Kerala. The hill station is nestled in the undulating hills of the Annamalai mountain range in the Western Ghats. Munnar offers travelers an astounding array of splendid tourist attractions to visit and explore. Besides, it is dazzling and filled with natural wonders like mountain ranges, waterfalls, bungalows, tea estates, and wildlife sanctuaries.
Lock Heart Gap is one of the best sightseeing places in Munnar. Photo enthusiasts love the evenings here when the surrounding hills get illuminated in blazing orange. Besides, the sight of the sun setting makes it beautiful. A blanket of mist-filled clouds over the valley provides a stunning view of lush green valleys, rolling hills, and grasslands. It is also an ideal spot for adventure, with many trekking trails to explore the untamed countryside.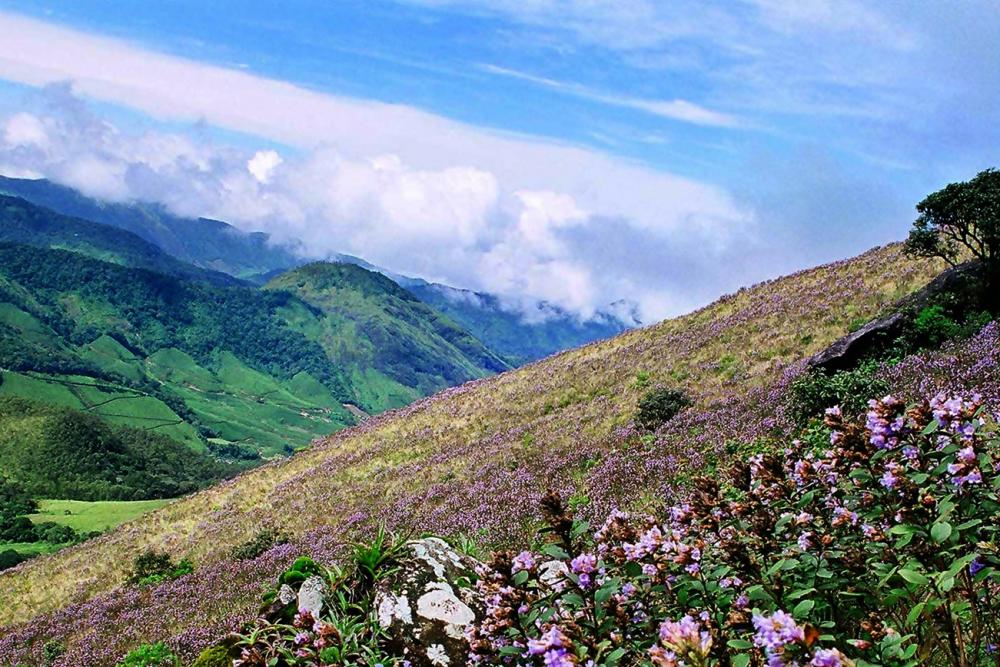 3. Vagamon, Picturesque Hill Views
National Geographic Traveler has listed Vagamon on their directory of the 50 most attractive places to visit in India.
Vagamon is a quaint hill station in the Idukki district of Kerala. It is a haven for mountaineers who love trekking, paragliding, and rock climbing activities organized at the hills. Hindus, Muslims, and Christians consider these hills sacred with the Thangal, Murugan & Kurisumala hills visited by the respective communities.
These hills are the must-visit places in Vagamon. Christians flock to the Kurisumala hills during the Good Friday week commemorations. However, Hindus visit the Murugan hills to offer worship at a  splendid rock-cut temple dedicated to Lord Murugan.
The tomb of the Sufi saint Hazrat Sheikh Fariduddin Baba is at the Thangal hills. Vagamon hills are divine and are apt for nature walks and sightseeing. It's a perfect example of communal harmony that exists among communities.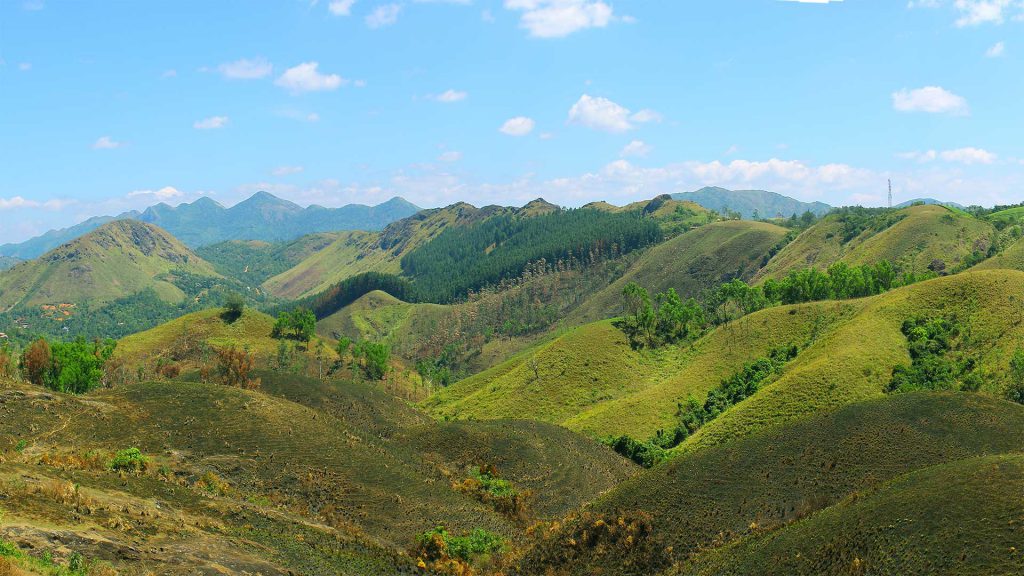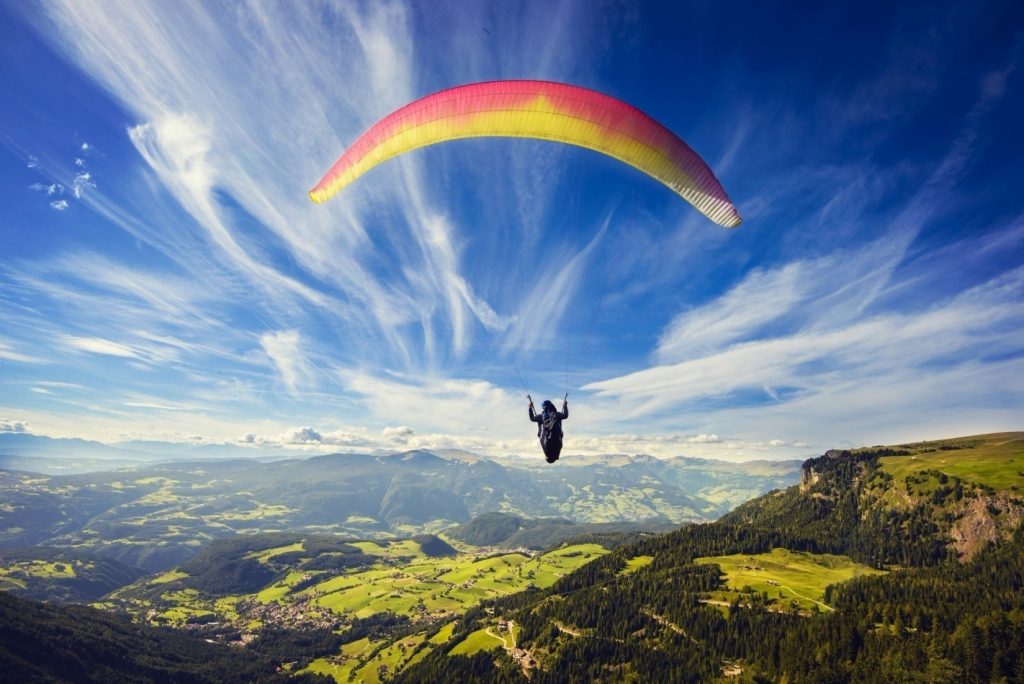 4. Ashtamudi Lake, Kollam
Ashtamudi Lake means eight braids in the local language Malayalam. It symbolizes the eight branches of this large lake.  The lake is one of the best offbeat places in Kerala. Ashtamudi has a unique ecosystem replete with wetlands shaped in the form of a large palm tree. The lake is the gateway to the Kerala backwaters, made famous by many houseboats and backwater resorts.
Travelers can opt for boat cruises that take tourists on an exquisite boat journey to Kollam and beyond. Besides, these tours wind through lakes, canals, and villages all along the lake shores. Chinese fishing boats called Cheena Vala provide a natural backdrop and offer glimpses of the region's abundant fish found here.
The best time to visit this picturesque destination is between August and March as the weather is perfect for a boat ride and when the temperature is moderate. Ashtamudi Lake is a natural paradise splendid with natural wonders perfect for a quiet holiday.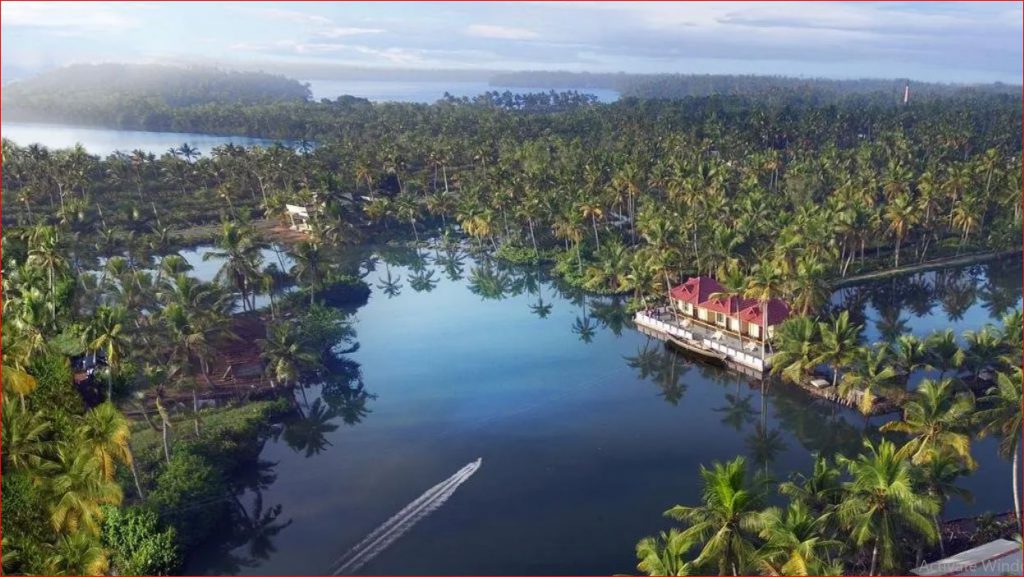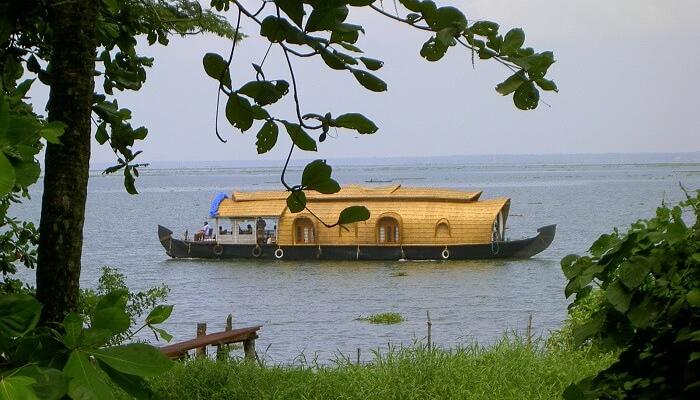 5. Kolukkumalai Estate, Worlds Highest Tea Estate
Kolukkumalai Tea Estate is the highest tea estate in the world. Located at a height of 7900 ft above sea level, the estate can be found with a 30 km ride up the Nilgiri Mountains. It's remote and is one of the most peaceful places in Kerala. It takes around 90 minutes to reach Kolukkumalai from Munnar. However, savoring a cup of special tea grown here is rich, zesty, and sweet will seem it was worth the effort. Tourists go to great lengths to explore the panoramic view of the rolling hills that nestle these distinct tea gardens.
Taking a pleasant stroll on the pathways in the tea plantations is alluring and fascinating. Tourists love to take a factory tour to view the traditional tea production processes. Seeing the laborious steps from withering, rolling, sieving, fermenting, drying and extraction can be one of a kind experience.
Tourists will take a liking to tea special varieties like the Broken Orange Pekoe and the Flowery Orange Pekoe.  In addition, these tea varieties can be purchased at the tea factory outlet. The view of the resplendent hills hidden by mist and haze is a captivating sight, one of the best tourist places in Kerala.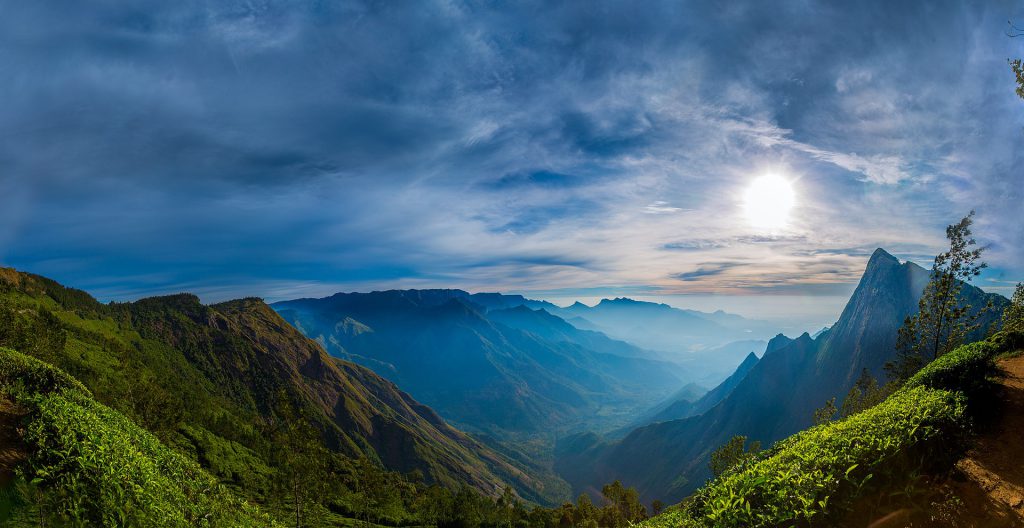 6. Agasthiyarkoodam, Trivandrum     
Agasthiyarkoodam is a 1,868-meter tall peak in the Agasthiyamalai Biosphere Reserve in South India.  The bio reserve is in UNESCO's list of its World Network of Biosphere Reserves. This land is a haven for many avian species and 2,254 species of higher plants including about 400 that are endemic.
Agasthiyarkoodam is one of the unexplored tourist places in Kerala, It's also a pilgrim center devoted to Sage Agastya, considered one of the seven Rishis in the Hindu Purana. Agastya is considered the father of the Tamil language. Since the first book on Tamil grammar is written by him. A small statue of Agasthiar can be found atop the peak.
An 8-km trek to the Agasthiyarkoodam peak is not for the faint-hearted. It traverses through thick forests and offers a splendid view of tea estates, mountain landscapes, and waterfalls on the trek. The Kerala Forest Department regulates these treks and is open for only 100 days during the Sabarimala Makaravilakku season.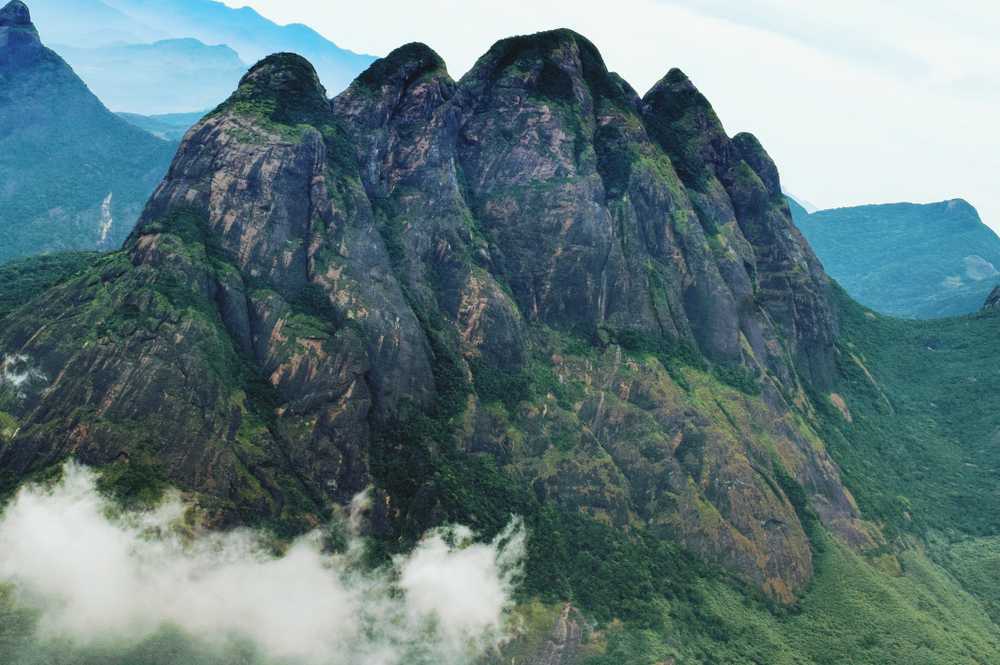 7. Ponnumthuruthu Island
Ponnumthuruthu Island near Varkala is an inhabited island caressed by the Anjengo backwaters. A jetty boat from Nedunganda village takes tourists to one of the most tranquil places in Kerala.  Ponnumthuruthu is a hub of migratory birds and home to a 100-year-old Shiva temple. This temple nestled amongst thick coconut groves comes to life for Shivaratri. Devotees from the surrounding areas spend a night at the island to celebrate Shivaratri.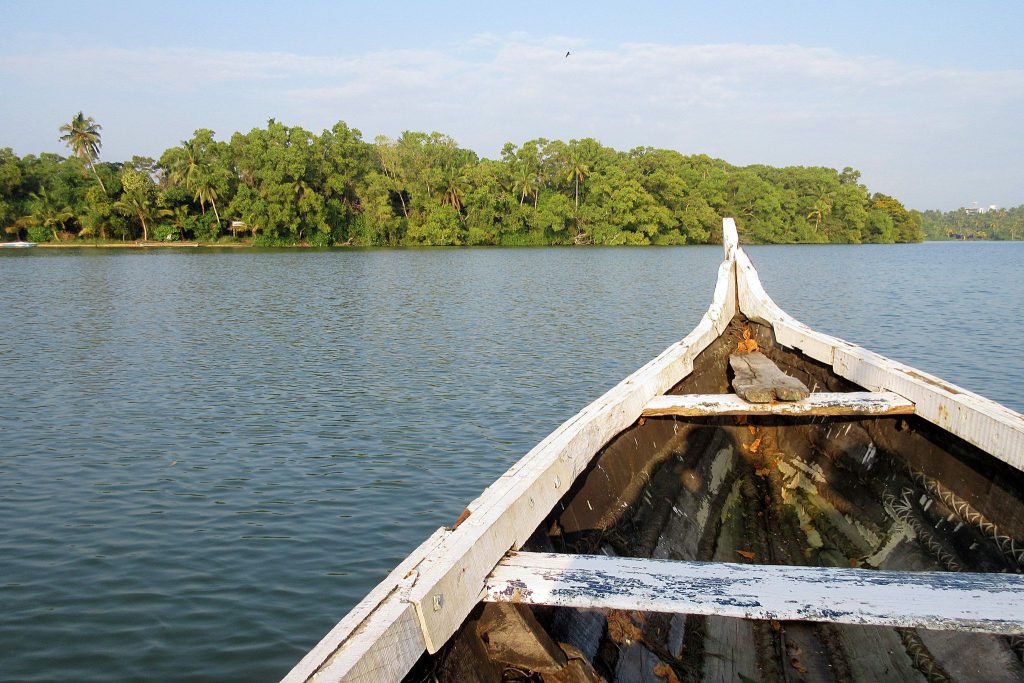 8. Mango Meadows Agricultural Theme Park, Kottayam
The Mango Meadows Agriculture theme park in Kottayam is the World's First Agricultural theme park. This unique park is spread over 30 acres and is home to 4500 species of plants and trees.  Mango Meadows will never disappoint anyone seeking peace and seeking to find a calm place to visit in Kerala set in a natural environment
Visitors can book premium cottages at the theme park at affordable prices. These accommodations never disturb the fragile natural eco-system here. Different leisure activities like feeding fish, bird watching, and a pottery experience can be tried out by guests.
Guests can challenge themselves physically by utilizing Mango Meadows sports zones. Facilities for go-karting, swimming, archery, shooting & badminton are loved by the guests here.  Nakshatravala – a group of trees denoting the 12 astrological zodiac signs is the highlight of the park.
Guests can also be in awe of a large statue of Lord Parashurama, an avatar of Vishnu who was half Kshatriya and half Brahmin. The guests can savor the delicious Kerala foods made from spices grown inside the park. A gourmet of culinary cuisines prepared from tamarind, coconut, peppers, fish, and meat to delight every guest.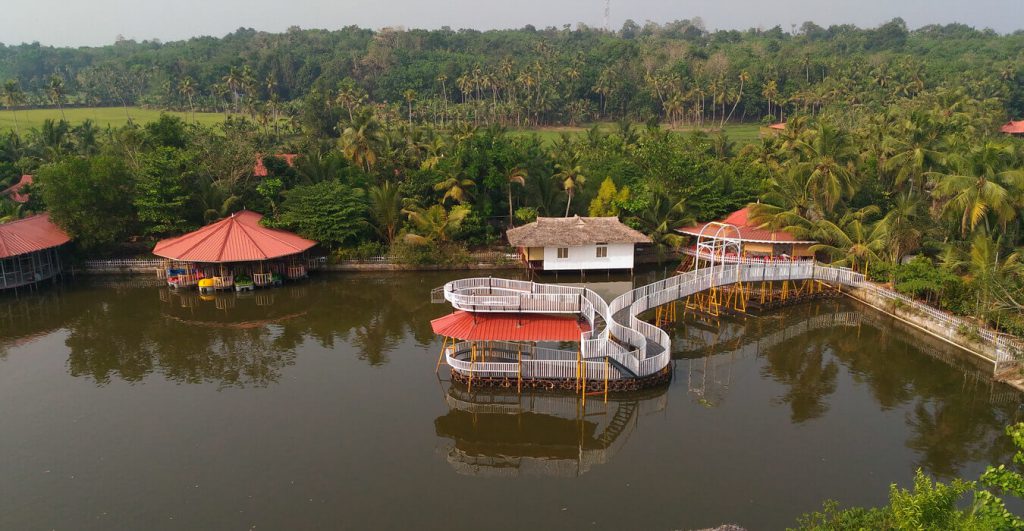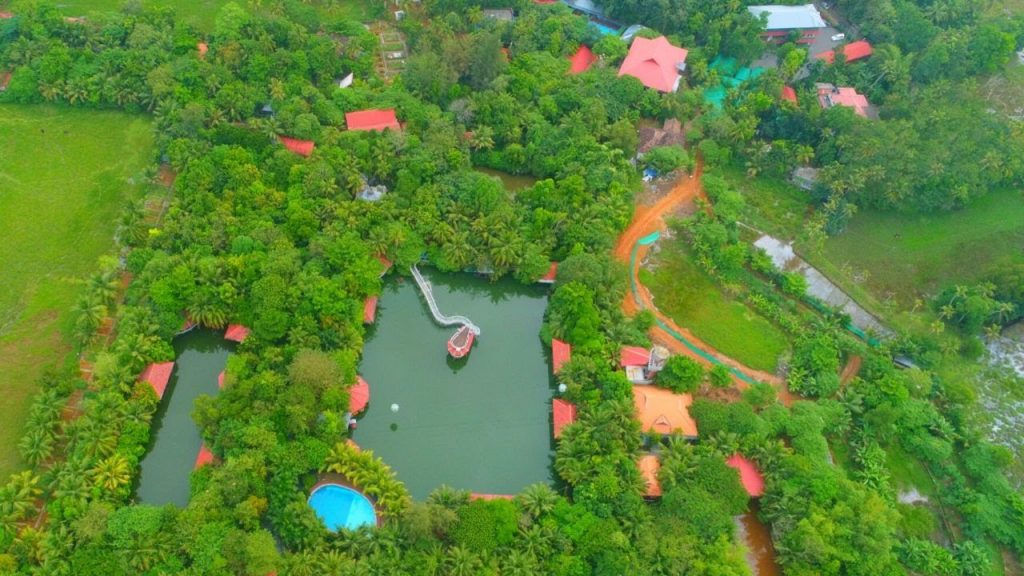 9. Nelliyampathy, Palakkad
A view of the cloud caressed peaks of the Nelliyampathy hills is spectacularly beautiful. Reaching Nelliyampathy hills from Nenmara in Palakkad involves a road journey that negotiates ten hairpin bends while crossing the Pothundy Dam.
Nelliyampathy's viewpoints bring into view vast stretches of paddy fields that look like a picturesque green carpet from a distance.  It also offers a splendid view of the Palakkad Gap, a fairytale backdrop that is hard to miss. This geographical phenomenon in the Western Ghats brings to view parts of the adjoining state of Tamil Nadu.
Besides this, the Pothundy Dam on the way to Nelliyampathy is a beautiful locale for boating and is a hotspot to experience serenity and calm. The drive to Nelliyampathy is worth every dime because of the fragrant spice gardens on the way. These plantations grow spices like cardamom, coffee, and tea throughout the year. In addition, the delicious oranges that grow at Nelliyampathy are worth a try.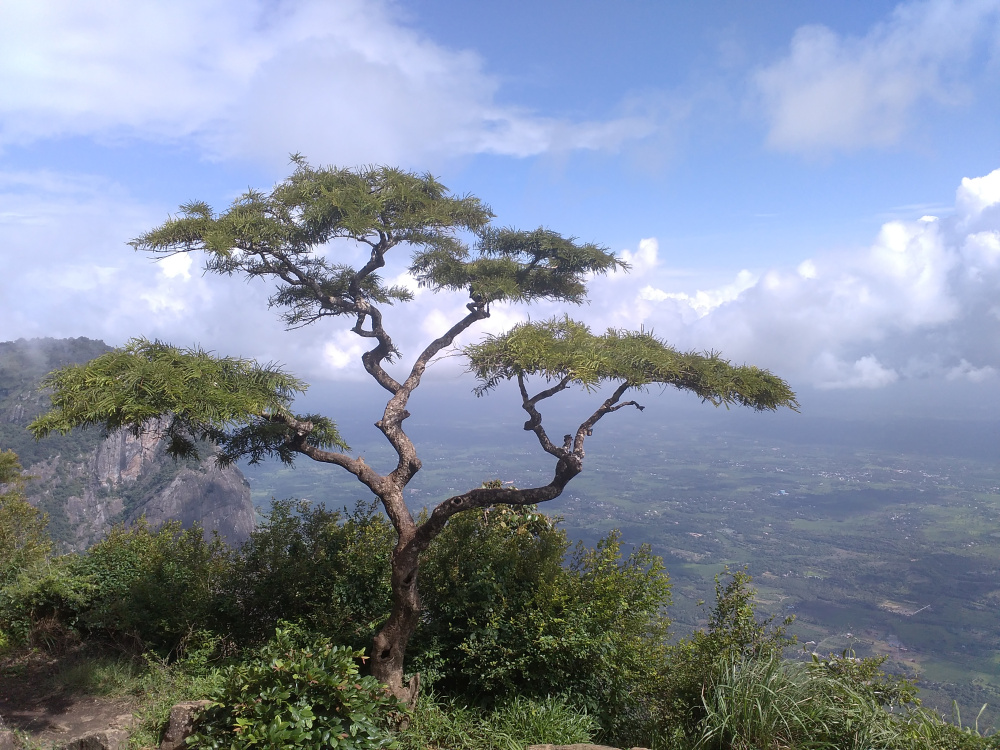 10. Varkala Beach Front
Varkala is a quiet hamlet on the outskirts of Thiruvananthapuram. The quaint town attracts pilgrims to the Asharam Sivagiri mutt temple, one of the best places to visit in Varkala. This Hindu temple is believed to be over 2000 years old. Besides, the Papanasam beach as it's called is renowned for a natural spring having medicinal properties. 
A dip at the Varkala beach is said to purge the body of impurities and redemption for all sins. Pilgrims make it a point to take a dip at the Papanasam beach before visiting the Vishnu temple. Varkala also offers travelers excellent accommodation with many Ayurvedic massage centers to check out.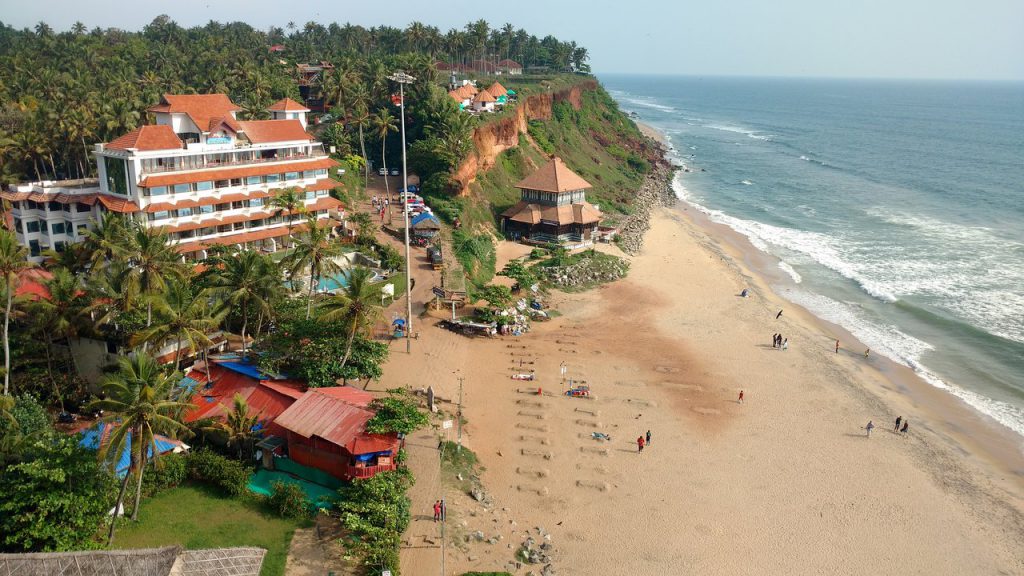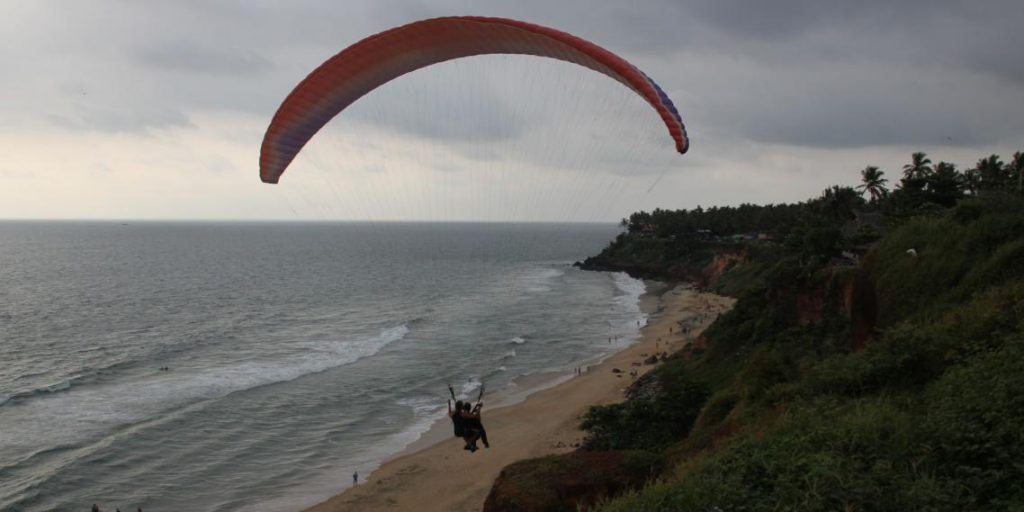 A Kerala tranquil escape is just a click away.
A Kerala tranquil escape from Bangalore can be planned with U-Taxi. A Bangalore-based taxi rental company that helps people with every travel need.
U-Taxi's outstation Taxi Service offers low-cost rental services to any destination in South India. It provides the best outstation taxi service in Bangalore. U-Taxi's affordable outstation taxi service in Bangalore is sure to keep everyone happy with pocket-friendly taxi rates. 
Enjoy Bliss, Quietude, and Peace of Mind in offbeat Kerala
Kerala's varied landscape is a beautiful maze of high-rise mountains, raging rivers, deep forests, pristine beaches, and serene backwaters. National Geographic Channel has listed the Kerala backwaters among the 50 destinations of a lifetime.
It seems as though the Gods have taken anything spectacular, compacted it between tall mountains and the sea, and called it Kerala. 
Kerala is a tropical paradise, a land of imposing mountains, adulating landscapes, pristine beaches, and roaring waterfalls. These ten blissful places in Kerala are unexplored and hence have retained their delightful charm.  
God's Own Country Kerala is spectacularly filled with thick coconut and banana plantations and fringed with soft shimmering beaches. Walking on Kerala's velvety beaches, enjoying the solitude of the mountains. Besides finding a secluded point by the beach, lake, or riverfront, travelers are sure to find travel serendipity to cherish for the rest of their lives.